Last Friday, I had the privilege of hearing General Tommy Franks speak at the Spur Leadership Conference in Austin, Texas. I was standing in the "green room" visiting with one of our authors when General Franks entered the room with his wife, Cathy. He stuck out his hand and said, "Hi, my name's Tom." I liked him immediately.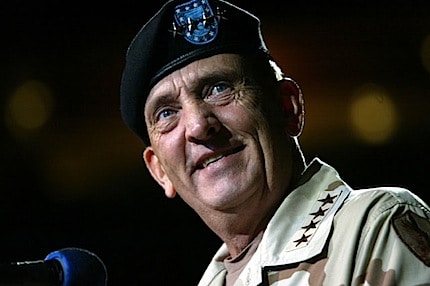 The way he carried himself made an unforgettable impression on me. First, he was clearly "large and in charge." He was in a business suit, but you just knew he was a general. He exuded leadership. Second, he was warm and self-effacing. He also clearly adored his wife and bragged on the fact that they had been married for forty years.
I would not describe his speech as eloquent or profound. However, it was filled with the kind of common sense that today seems to be all too uncommon. I was totally captivated by his stories. He had the kind of wisdom that only comes from leaders who have been through many battles and been forced to make the kind of gut-wrenching decisions between bad and worse.
I will tell you one story that I recorded in my journal. He flunked out of the University of Texas in 1967. Rather than wait to be drafted to fight in Vietnam, he enlisted in the Army. As he got on the bus to leave for boot camp, his father said, "Son, I have one piece of advice. Be feisty."
He replied, "But Dad, I am feisty."
His dad said, "Son, I know your feisty, but I mean it as an acronym. F-e-i-s-t-y." He then went on to spell it out:
"F" is for focus. You need to get focused on what is important and stay focused.
"E" is for energy. Bring all the energy you can muster to every situation.
"I" is for integrity. This is your most important possession. Don't ever compromise it.
"S" is for solve the problem. Don't argue. Don't make excuses. Just solve the problem and get on with it.
"T" is for take the blame when no one else will. Accept responsibility and be accountable.
"Y" is for "Yes, I do windows." Don't ever say, "That's not my job." Do whatever the boss asks you to do and do it with enthusiasm.
Later in the Q&A session, General Franks told the story of a young lieutenant who declared his intention to one day become a General himself. He asked, "Could you share with me the one thing I can do to advance my career and achieve this goal?"
General Franks told him, "Son, go out and buy two alarm clocks."
The young officer, clearly confused by the General's answer, asked, "Two alarm clocks?"
"That's right," General Franks explained. "If you can't take responsibility for your own life and show up on time, you have no right leading anyone else. Don't ever be late."
Question: What's one leadership lesson you learned from your dad?