I know lots of people with big dreams. But they are afraid to pursue them. They are unwilling to take the plunge, waiting until they reach the point of absolute certainty. But it never comes. And it never will.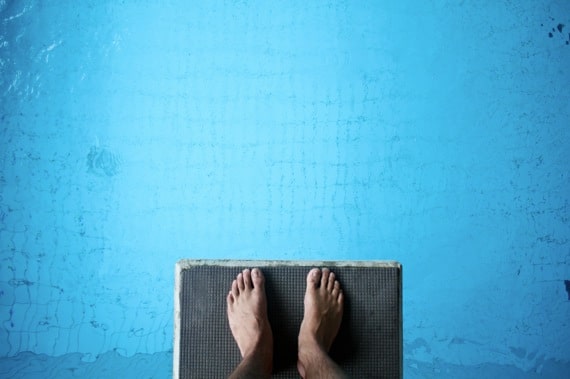 This is the problem with commitment. You must act on limited information. Whether it is marriage, starting a new career, or leaving a good job to pursue your dream. You do your best to gather the best information you can, but then you must act. If you don't, you risk "dying with the music in you."
A few years ago, I discovered a wonderful quote by W.H. Murray, a Scottish mountain climber and writer. He says,
Until one is committed, there is hesitancy, the chance to draw back, always ineffectiveness. Concerning all acts of initiative and creativity there is one elementary truth, the ignorance of which kills countless ideas and splendid plans:

That the moment one definitely commits oneself, then providence moves too.

All sorts of things occur to help one that would never otherwise have occurred. A whole stream of events issues from the decision, raising in one's favor all manner of unforeseen incidents, meetings and material assistance, which no man could have dreamt would have come his way. I have learned a deep respect for one of Goethe's couplets:

'Whatever you can do, or dream you can, begin it; boldness has genius, power, and magic in it.'"
Or to simplify it even further, American naturalist John Burroughs put it this way, "Leap and the net will appear."
I don't think this concept encourages recklessness. But it does make the important point that you must eventually act, believing that the resources you need will show up when you need them. This is simply faith in its purest form.
Are you a high achiever looking for a next level productivity solution? Find relief from endless distractions and overwhelming to-do's with
Free to Focus™,
my total productivity system designed especially for leaders and professionals. You can reclaim work-life balance — and up to 20 hours of your week! But public enrollment is only open until Friday, September 29, at 11:59 p.m. Pacific… so
check out the Free to Focus™ course
before it's gone!
I have personally witnessed this numerous times. In fact, I am seeing it play out in my own life right now, just a week after stepping away from my role as CEO of Thomas Nelson.
Question: What commitment have you been waiting to make? You can leave a comment by clicking here.