Daniel Harkavy and I have just finished writing the manuscript for Living Forward: A Proven Plan to Stop Drifting and Get the Life You Want. It will be published by Baker Books in the Spring of 2016.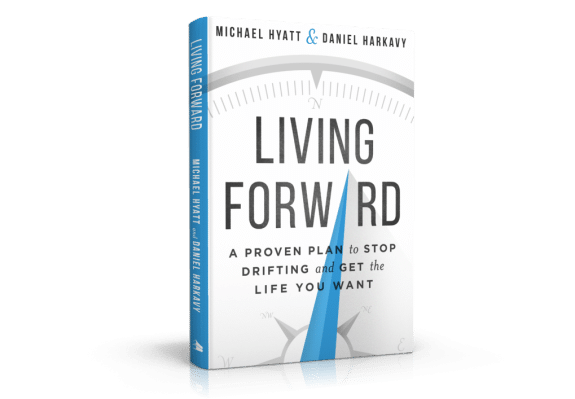 This is a project we have been working on for nearly two years. We can't wait to share it with you. If you want to be notified when it is available, please give us your name and email address in the form on the right. We'll make sure you are the first to know when it is available.
The premise behind the book is simple:
When it comes to life, most people are spectators. They watch events unfold a day at a time. They may plan their careers, the building of a new home, or even a vacation, but it never occurs to them to plan their life.
As a result, they drift along, often to destinations they would have never consciously chosen: failing health, a broken marriage, or a stalled career. But it doesn't have to be this way.
This is your life.
You can live your life on-purpose, determining in advance the outcomes you want to experience. It begins with a life plan. In this step-by-step guide, we share exactly how to create one, so you can get from where you are now to where you want to be—in every area of your life.
Living Forward will help you:
Understand why most people end up at destinations they didn't consciously chose and die with regrets.
Avoid this outcome by developing a written life plan that puts into words what you want in each of the major areas of life.
Develop a clear set of written priorities that will equip you to make better decisions in real time.
Set aside a day to go through the life plan exercise and emerge from that experience with a short, compelling plan for moving them from where you are to where you want to be.
Follow-through on your plans and implement a strategy for keeping it alive.
In addition, the book includes:
A unique assessment tool designed to measure your passion and progress in each of the nine domains of life.
A visualization exercise designed to give you clarity on what matters most.
A four-step framework for identifying where you are now and building a plan to get you where they want to be.
A weekly, quarterly, and annual process for keeping your lives on-plan and moving in the direction of your highest priorities.
Real-world stories of people who have developed a life plan and changed the trajectory of their lives.
We have already received twenty endorsements for the book. You can read them in the right-hand sidebar.
Again, if you want to be notified when Living Forward is available, please add your name to our list (see the upper right-hand corner of this page).