Three years ago, I recorded a screencast called, "How to Launch a Self-Hosted WordPress Blog in 20 Minutes or Less." Since that time, more than 10,000 people have used that short video to launch their own blog. If you have ever thought about building your own platform, now is the time. Here's why …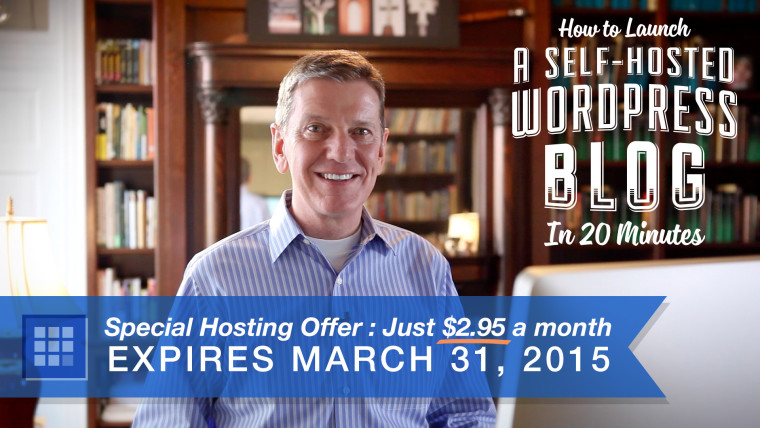 Until March 31, you can get your very own self-hosted WordPress blog for just $2.95 a month. Bluehost, the No. 1 hosting company recommended by WordPress itself, is offering its lowest price ever—but only through me and four of their top affiliates.
Note: Even if you already have a blog, it's worth taking advantage of this unprecedented price just in case you want to launch another web property in the future. I did. It's a steal.
Why do you want a self-hosted WordPress blog? I wrote an entire post on this a while back, but let me summarize my seven reasons here:
You can use a custom domain name.
You have access to more themes.
You can install third-party plugins.
You can customize and tweak the code.
You can run your own ads.
You can setup a web store (like I have done here.)
You own and control your home base.
I can't overestimate the importance of this last point. You wouldn't build a house on a rented lot, so why would you build your blog on someone else's platform? You want something you own and control, unlike a blog on Blogger, Squarespace, Medium, or even WordPress.com.
The good news is you can launch your blog quickly by using my screencast. In fact, in honor of this special promotion, I completely re-recorded it. It now includes everything I have learned in teaching 10,000 people how to get started. It's faster, easier, and now cheaper, than ever before.
Just click here to get started. If you want to follow my click-by-click guide, click here.