William Shakespeare is one of the greatest literary figures of all time. But he didn't start out that way. He spent his early days in the theater learning from more experienced writers and actors.
The truth is, whatever you want to accomplish in life, nothing will help you go further, faster than getting the right coaching in the context of motivated peers.
If you're looking for something like this—something that can take you to the next level, I have good news.
I'm currently accepting applications for my Inner Circle™ guided mastermind. This is a place to learn directly from me as well as interact with people in your specific season of life.
Leading this group is my top priority. Why? Because I'm convinced nothing can more positively impact a person's work and life than being guided by the right mentor, with the right plan, among the right peers.
Let me explain …
How I Broke Free
I didn't have the benefit of any of these for most of my career. It didn't seem to slow down my business success, but it sure affected the rest of my life.
I wasn't just consumed with my work—my work consumed me.
For all my accomplishments, I was convinced it would all vanish if I didn't stay two steps ahead. So I left the house early, left the office late, worked after dinner, and worked even more every weekend.
My wife Gail was essentially a single mom. My five daughters suffered from my frequent absence and constant distraction. My workaholism took a toll on everyone, including me.
Family time, free time, sleep—I cut every corner I could to keep up the pace. But it finally became too much. My kids started rebelling about the same time my body did. My cardiologist told me I was in real trouble if I didn't change my lifestyle.
And I did.
If you're like me, you can probably guess I did it just as intensely as I did everything else. I hired an executive coach, a therapist, a fitness trainer, and a financial advisor. It might have been overkill, but I started seeing immediate progress.
Not only did I improve my health and restore my family life, I also made huge strides professionally. As it turned out, I didn't have to surrender my career ambitions. I just had to use a different strategy for achieving them.
I certainly haven't arrived, but I'm not trapped by my own accomplishments any longer either.
How You Can Break Free, Too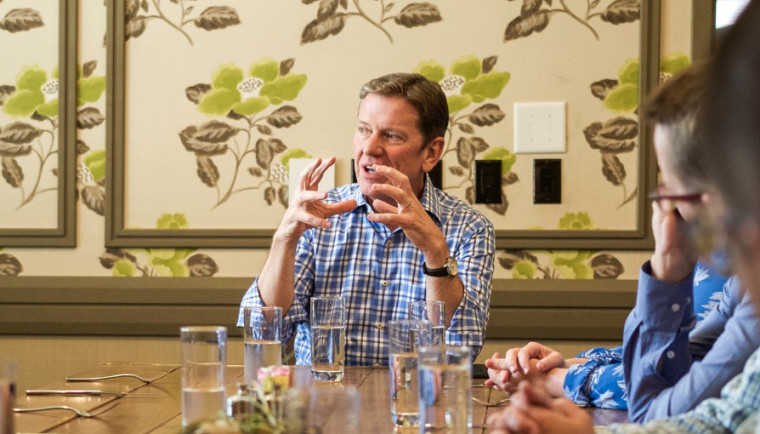 I've seen others make even more dramatic turnarounds than my own. The truth is, we can all win at work and succeed at life—without compromising our families, our health, or our personal pursuits.
To do it we need three things: a guide, a plan, and a peer group. When I finally locked these components into place for my own life, everything began to shift.
That's what I want you to experience and why I believe that my Inner Circle™ group is so important.
But here's a warning up front: It's not for everyone.
The group is intense and limited. I dedicate a lot of my time and energy to it, and I have to focus where I believe I can help members the most.
Let's drill down on those three components:
The guide. Most masterminds are peer-led. This one is different. I personally lead this group, along with my assistant guides, Megan Miller and Stu McLaren.

Sometimes you need someone who has "been there, done that," someone who has graduated from the school of hard knocks, so you don't have to pay the tuition of learning the hard way. I've paid those dues.

As the guide, I share insights from decades of experience as an entrepreneur and corporate executive, including CEO of a $250 million company and now CEO of a high-growth, multi-million dollar startup.

I inspire, instruct, and challenge mastermind members individually and collectively.

The plan. While business is a big part of our focus, I intentionally take the scope of the group beyond business. We discuss work and your personal life at every session.

After all, they're connected—winning at work doesn't mean much if you fail at life. And winning at life can help you win at work.

To maximize our interaction, I host four in-person meetings for the group in Nashville:

January 26-27, 2016
April 5-6, 2016
July 12-13, 2016
November 2016 (we don't have the exact dates locked down yet)

I also lead a two-hour video conference call each month. Members have access to a private Google Group and direct email access to me.

The peer group. This is huge. The group is a hand-picked "band of brothers"—just twelve married men in their thirties or early forties. I also impose an income threshold with the intent to find members of similar professional accomplishment.

When I launched this group last year, I got a few complaints because it was a mens-only group. I am sure I won't satisfy the critics, but let me briefly explain my rationale.

I want participants to be free to discuss their deepest, most intimate struggles. In my experience leading similar groups, that just doesn't happen in a mixed group.

You don't have to agree, but for what I am trying to accomplish, this is the right decision. And, just so you know, we are considering a women's group for next year.

To make sure the group has the best possibly chemistry, I require an application, personal screening by my team, and a personal interview via Skype. You can check to see if you qualify by clicking through to the application here.

Note: this is a paid mastermind. It's not cheap.

The cost is $30,000 per year. If you pay the full amount upfront, you can deduct $5,000, making the total cost $25,000. If you prefer, you can pay a $5,000 deposit and then pay ten monthly payments of $2,500.

I know from experience you will learn business strategies that will generate eight-to-ten times your investment in profit.

You will also gain invaluable life strategies that insure you experience optimal health, increased intellectual and emotional capabilities. a healthy, satisfying marriage, and overall balance to achieve what matters most.

You should also know that I donate 100 percent of the profit from this group (everything beyond the operating expenses) to a charitable cause that means the world to me: World Teacher Aid. This year we will use the proceeds from Inner Circle™ to build a school in rural Kenya. (My friend Jeff Walker did this last year. His video is what convinced me to do the same.)
What Could a Group Like This Make Possible?
What could be possible for you if you had access to a group of professionals who are serious about growth like you, who share the same values, who have similar but different experiences, and who want to succeed professionally as well as personally?
I am confident you will discover:
greater physical and mental energy and creativity
clarity about professional and personal priorities
new and proven income-generating strategies
networking opportunities with highly-qualified entrepreneurs and business leaders
opportunities to develop your leadership strengths and improve your weaknesses
insights and tools for greater productivity
All of the above will give you what you need to develop a sharper edge in shaping a successful business and a successful life.
Your Next Step
If you agree, the next step for you is to fill out the application. It will take about thirty minutes. There are four pages, and you need to complete all four to be considered.
The official application deadline is December 1st for the 2016 program. But it could end much earlier. Here's why.
Seven of our nine charter members from last year have renewed their commitment for the 2016 program. That means I only have five slots available (as I am writing this).
My team will be reviewing applications as they come in. If your application is chosen, we will let you know about proceeding to the next step.
Once the five new members are chosen and have accepted, the window closes. So the earlier you apply the better shot you have of joining the group.
One thing I know for sure: If you are serious about achieving your biggest professional goals, building a family that brings joy and fulfillment, getting in the best shape of your life, and finding your place in a larger story, then Inner Circle™ is for you.
Question: What could be possible for you with the right guide, the right plan, and the right peer group? You can leave a comment by clicking here.