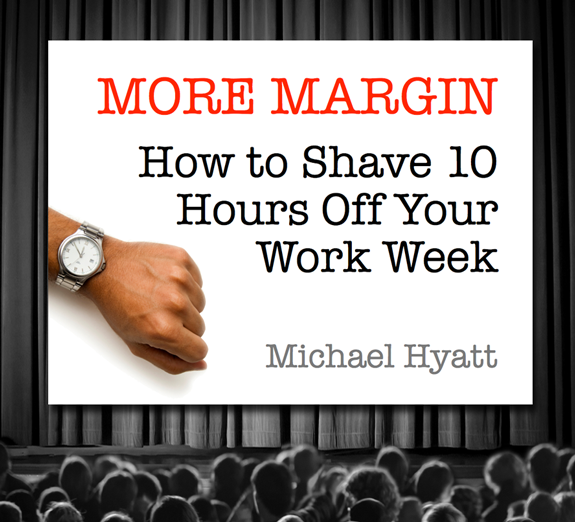 Quick Summary
Life seems to be coming at us faster than we can process. With the increasing demands of work, it's difficult to find time for the things that matter most—family, personal growth, and our own health. In this presentation, I explain how to go from feeling overwhelmed to being back in control.
Presentation Outline
Using examples from his own experience as well as relevant case studies, Michael shares seven ways to create more margin in your life for the things that matter most:
| | |
| --- | --- |
| | 1. Limit your time online. The web and social media are most people's number one time suck. If you are not careful, they can eat up several hours a day. The key is to put a fence around this activity and limit your time online. Fortunately, there are numerous tools available that can help you. |
| | 2. Plan your day in advance. If you don't start the day with a plan, it is easy to have it hijacked by others. The best time to do this is the night before, so you can hit the grounding running in the morning. It is also helpful to prioritize your tasks using "The Priority Quadrant." |
| | 3. Touch e-mails once and only once. Your goal should be to empty your inbox each day. Most people don't do this. They keep reading the same e-mails over and over, without taking definitive action. The key is to understand the five possible actions, chose the appropriate one, and keep moving. |
| | 4. Triage your calendar. Meetings can kill your productivity. It's easy to fill the workday with them, leaving no time to do the actual work. This requires that you cancel meetings that no longer add value, find better alternatives to meetings, and make the meetings you lead more efficient. |
| | 5. Schedule time in the "alone zone." This is the key to shifting from reactive to proactive. You must schedule time on you calendar to do the work you are responsible to do. This time needs to be free from distractions and interruptions, so that you can focus on the important rather than the urgent. |
| | 6. Use batch processing. Multi-tasking is a myth. Not only is it inefficient, it creates enormous stress in our lives. The alternative is batch processing. This is where you group similar tasks together that require similar resources and then do them sequentially, one after the other. |
| | 7. Use e-mail templates to say "no." You can't create more margin unless you get really good at saying no. Since most of the requests for our time and resources are made via e-mail, we can identify the common requests, craft gracious but firm responses, and focus on more important tasks. |
I conclude with an inspirational challenge. If you are going to create more margin in your life, you must take responsibility for it. No one is going to do it for you. The choice is yours.
Target Audience
Organizations whose employees or members are feeling overwhelmed by life's demands and want to find a way to create more margin for those things that matter most. I have spoken on this topic to a wide array of audiences—financial planners, military officers, executive coaches, mortgage bankers, university students, business consultants, and small business associations.
Possible Formats
This presentation can be delivered as a keynote or workshop, ranging from 30–60 minutes long, depending on your needs. The ideal keynote length is 45 minutes.
Intended Outcomes
Audience members will become convinced that they really can regain control of their lives and make them more manageable.
Audience members will have a set of tools and best practices that will dramatically reduce the number of hours they spend each week on work-related activities.
Audience members will leave with practical, actionable steps they can implement immediately.
Topic Authority
Productivity is one of the main topics I write about on my blog which is read by more than 300,000 monthly visitors and 70,000 subscribers.
My weekly podcast, This Is Your Life, often covers productivity topics. It is consistently ranked as one of iTunes top ten business podcasts with more than 28,000 weekly listeners.
I also have a very busy life. I developed my methods and tools while serving as the CEO of a major corporation, writing a popular blog, and staying connected to my wife of thirty-four years, five daughters, four sons-in-law, and seven grandchildren.
Other Presentations