I love reading. I guess that's why I got in the publishing business to begin with. After almost thirty years, I am still a content glutton. I have in insatiable desire for input.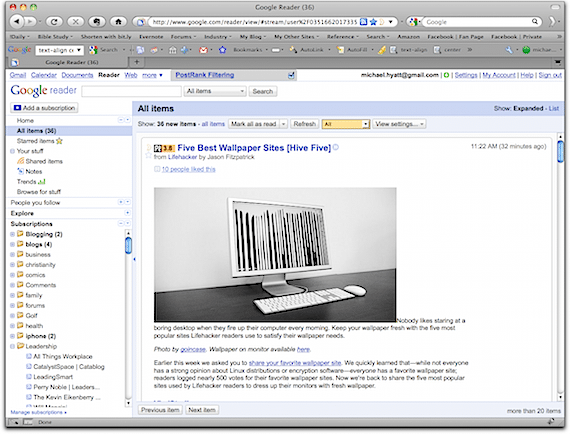 I read all kinds of stuff: books, the Bible, magazines, newspapers, blogs, and even microblogs like Twitter. I also read a wide variety of genres. My tastes are very eclectic. Mostly, I just enjoying discovering and experiencing new things.
In the past couple of months, several people have asked me to write about my reading habits and my daily reading list. I currently read in three daily blocks.
First thing in the morning, I read the Bible, then about 200 RSS feeds from various blogs and news sites. I use Google Reader to collect these feeds, so I can move through them quickly. It usually takes me 45 minutes to an hour to scan these feeds and read thoroughly the articles that catch my attention.
After this first burst of reading—and a couple of cups of coffee—I go running. But only four days a week. During this time, I listen to audio books on my iPod Shuffle. I have a membership to Audible.com. Currently, I am listening to Made to Stick for the second time.
At the end of the day, right before bed, I try to read for 30 minutes or so. This is always a physical book. I am currently reading a book on Search Engine Optimization (SEO) [affiliate link]. I have to be careful, because if the book is too stimulating it keeps me up thinking!
If I don't have a lot of meetings scheduled, I also read snippets throughout the day. However, these are usually related to some specific project or speech I am preparing for.
What RSS feeds do I subscribe to? You can get a taste of this by viewing or subscribing to my Shared Items feed from Google. As I am reading through my RSS feeds, I mark articles that I want to share. These go into the feed. I also add my comments, which gives you my perspective on why I chose to share this post.
Question: Do you have a daily reading routine? What is it?