I have been quietly using the new MacBook Air for the last 30 days. I haven't written about it until now, because, frankly I didn't know if I would like it. However, after using it for 8–12 hours a day over the last month, I can honestly say it is the best computer I have ever owned.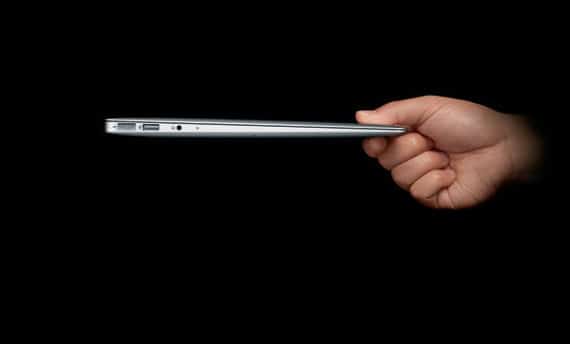 When Steve Jobs announced the new Air computers on October 20, 2010, I was intrigued. While I have always been impressed by this model's size, I couldn't imagine it replacing my beloved MacBook Pro. I saw three major obstacles:
Hard Drive. I have a lot of media files—112GB of music and 60GB of photos. I had already upgraded my MacBook Pro's hard drive to 500GB. I couldn't figure out how to cram all of this into the Air's maximum drive size of 256 GB.
RAM Memory. I also had 8 GB of RAM on my MacBook Pro. I keep a lot of programs open and often use large memory-intensive programs like Adobe Photoshop and Illustrator. The most RAM you can get on the Air is 4GB, so I figured the Air would slow to a crawl.
Screen Size. I use a 27″ Cinema Display at work, so even my MacBook Pro's 15″ screen seemed like a compromise. I had become used to it, but I couldn't imagine going down to the Air's 13″ screen.
However, two of my power-user friends, John Saddington and Michael Sliwinski, had bought the new MacBook Air and were raving about it. It fact, they were gushing that it was the best computer they had ever owned. So I decided to take a second look.
I purchased the 13″ Air with 256GB flash drive, the 2.13GHz processor, and 4GBs of RAM. I also bought a G-Technology 320GB G-DRIVE slim Portable (i.e., external) USB Drive. It was only $99.95 and matched the fit and finish of the Air.
The first thing I did was relegate all my media—music, photos, and movies—to the G-Drive. When I analyzed my usage, I realized that I didn't need constant access to these files, especially since I keep my favorite music on my iPhone and only access my photos once a week or so. Everything else fit on the Air's drive, and I currently have 122GB of drive space free.
Here's what I love about the Air:
It's incredibly light and thin. It weighs less than 3 pounds and is only .68 inch thick. In fact, for overnight trips, I have stopped carrying a briefcase. I just tuck it in the outside flap of my Eagle Creek Tarmac 22 carry-on bag. Ryan Bingham, George Clooney's character in Up in the Air, would be proud of me.
The battery lasts a long time. Apple says "up to 7 hours." In my experience it is 6–8 hours, depending on what I am doing. I no longer have to take an airline power cord, except for international flights.
It is really fast. This surprised me. The processor is only rated at 2.13GHz. My MacBook Pro is 2.66GHz, yet the Air feels much faster. This is probably due to the flash drive, which makes programs and files load faster.
It boots in less than 45 seconds. If the computer is completely off, from the time I press the on switch to the time I get the login screen is 15 seconds. After entering my password, everything is loaded and ready to go in another 30 seconds. The amazing thing is that this includes nine background apps (e.g., Alfred and Typinator) and the six major apps (e.g., Apple Mail and Google Chrome) that I use in my normal workflow.
Big programs and multiple programs run fine. I still use Photoshop and Illustrator and can't tell any difference. Granted, I don't edit very complex files, but having half the memory on the Air as compared to my MacBook Pro has turned out to be a non-issue. I also still run as many programs concurrently as I used to with no noticeable degradation in performance.
The screen size is just fine. I noticed a difference during the first couple of days, but I quickly got used to the new size. In fact, I haven't thought about it until I started writing this post. When I speak, I almost always use a Keynote slide deck. This works no differently on the Air. I plug the Air into the projector using a Mini DisplayPort to VGA Adapter. The display is the same as the MacBook Pro, albeit a tad smaller.
The only thing I really miss from the MacBook Pro is the backlit keyboard. This is really nice in low-light situations like an airplane at night. Other than that, the Air has completely replaced my previous computer. (By the way, I don't use a desktop computer. This is my sole machine.)
If you are in the market for a new laptop, I recommend taking a look at the Air, especially if you have been considering the MacBook Pro. In addition to the benefits I listed above, it is also about 30% cheaper. I can't imagine going back to a bigger machine.
Question: Have you considered the MacBook Air? You can leave a comment by
clicking here
.