If you have been following my blog or Twitter feed for more than a month or two, you know I am an Andy Stanley fan. I believe he is one of the great communicators of our age. He always nails it in a way that makes me think, Of course! That's exactly right.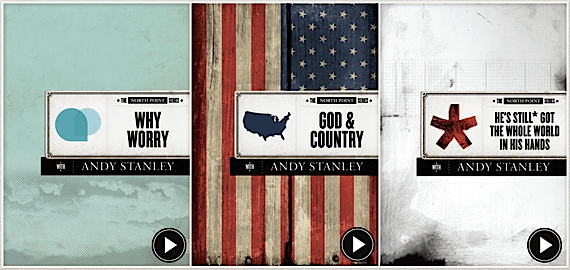 In case you don't know, Andy Stanley is a best-selling author, communicator, and pastor of North Point Community Church in Alpharetta, Georgia, just outside of Atlanta. Launched in 1995, North Point Ministries is now one of the fastest growing and most influential Christian organizations in America.
Each Sunday, over 25,000 adults attend services at one of three North Point campuses in the Atlanta area, while many more attend North Point's nearly 30 strategic partner churches in the U.S. and around the world.
I also have the privilege of publishing Andy at Thomas Nelson. I have heard him speak several times and am a regular subscriber to his "Andy Stanley Leadership Podcast," which, in my opinion, is the best leadership resource available any where.
EMI Christian Music Group has just released three new video series from Andy that you must see.
He's Still Got The Whole World In His Hands is a two-part series. Perhaps you have asked yourself, "How do we maintain peace when the world around us is spinning out of control?" If you've ever asked a question like this, you're not alone. The uncertainty we face today is no different than the uncertainty faced by the men and women of the Bible whose stories have inspired us for generations. Chances are, your favorite Bible stories involve people whose circumstances left them questioning God's faithfulness. But in the end, they, like us, were reminded that . . . He's Still Got the Whole World in His Hands.
Why Worry is a three-part series. Worry. It's universal. It is as much a part of life as breathing. Yet Jesus said, "Don't!" "Don't worry!" Easier said than done. In Why Worry, Andy Stanley explores what Jesus had to say about this important topic. You'll discover where worry comes from, why it's so difficult to overcome, and what you can do to conquer worry in your life.
God & Country is a two-part series. You can't turn on the news without noticing that things aren't going so well in the good ol' U.S.A. What's worse, it seems that those who lead us can't seem to agree on how to change things. While politicians frame the debate as rich vs. poor, big business vs. the middle class, or Republican vs. Democrat, another conflict reflects a much deeper divide in American culture, a conflict that, if resolved, could pave the way for our nation to come together and successfully address the issues that fill the airwaves.
I can envision at least three ways you can put these videos to use:
Your own personal growth. You can watch these videos on your computer. This is what I did.
Ad hoc small group discussions. Why not invite a few friends over and watch these videos together? I promise, they will give you plenty to talk about.
Sunday school mini-series. These videos would make a great interlude between whatever else you are teaching.
As always, Andy's presentations are insightful and relevant. I whole-heartedly recommend them to you.
Question: Have you ever personally experienced Andy's teaching? What was your experience?