It's resolution time. Getting fit, getting organized, improving our personal finances, traveling, and reading more are among the most popular resolutions this year, according to research by iQuanti.
Sounds great to me. Who wouldn't want those things? Unfortunately, despite good intentions, thousands will fail at their resolutions in just a few weeks. But that's only the start of our problems.
If we look to our past failures, we can run smack dab into a wall of self-doubt. You know the script:
"Yeah, losing those pounds would be good, but I don't know that I can do it."
"I'd love to get my finances in order, but I just can't seem to manage it."
"Nothing would make me happier than that trip I've been dreaming about, but I don't think I can get the time off. Probably have to wait another year."
We all have a hundred versions of those conversations in our heads, don't we? It's a form of self protection. If we don't get our hopes up, we won't be disappointed when our resolution fails again.
Instead of taking a stand for what we really want to see in our lives over the next twelve months, we hedge our bets. We set smaller goals—or none at all.
It feels safer than risking another failed resolution. But that strategy is guaranteed to leave you exactly where you are right now.
If you're dissatisfied with your health, finances, and personal growth, will you be better off in a year by doing nothing now? You already know the answer I bet. But you might not know what to do instead.
If we want to get unstuck and achieve our goals, the research is pretty clear on the importance of setting ambitious goals. Safe and easy goals don't energize us. They don't engage our most creative thinking.
But when we really dare to hope and set big goals, we're almost guaranteed to hit that wall of self-doubt again. I talk about this problem and how to overcome it in my free, upcoming webinar, 7 Steps for Taking Control of 2017. If you're serious about finally making progress on your most important goals, you don't want to miss it.
Get More Info on My Free Webinar
Once we scale the wall of self-doubt and set ambitious, inspiring goals, we still need all the help we can get to achieve them. 7 Steps for Taking Control of 2017 will show you exactly how to take charge and make it happen this year.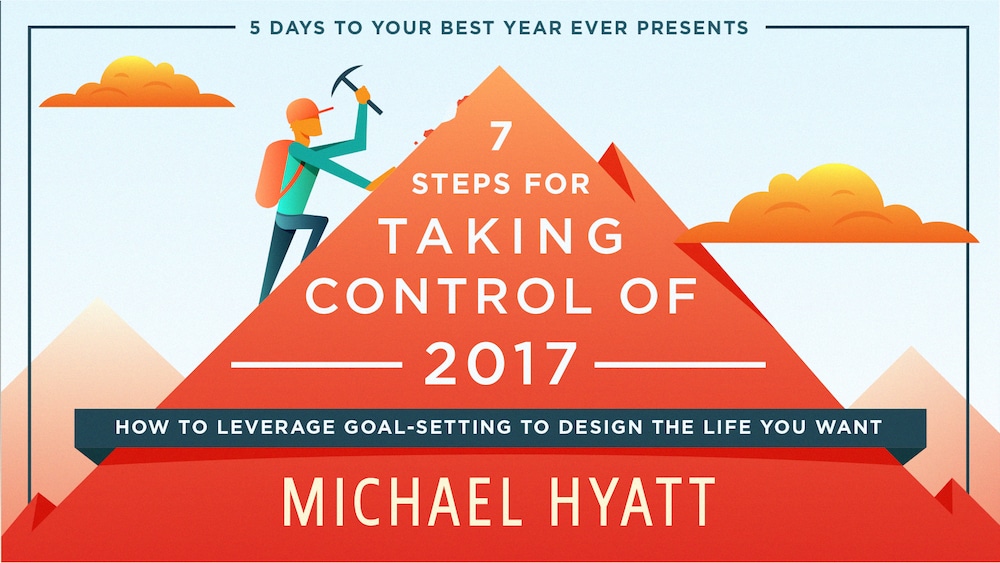 If you sign up, you'll discover:
How to "quit-proof" your resolutions to ensure 2017 is the year you finally cross that big one off your list
A simple but powerful principle that will enable you to defeat procrastination once and for all
One single strategy that will instantly make you 42 percent more likely to accomplish your goals
The secret to making it through the "messy middle," when you have too much invested to quit but are not sure you can finish
A simple, proven solution to ensure you never get overwhelmed (or paralyzed) by a big goal again
Clarity on your next steps toward accomplishing what matters most—and the courage you need to take action
As I mentioned, registration is free. But spots are limited, and they go quickly.
Don't let a failed resolution or unfulfilled dream from 2016 rob you of what's best in 2017. 7 Steps for Taking Control of 2017 reveals how to leverage the best practices in goal-setting to create the life you want in the coming year.
Question: What big goal are you most reluctant to set for 2017? What would happen if you kicked self-doubt to the curb and did it anyway?