I have been using task-management software since the late 90s, when I first installed a program developed by Franklin-Covey. Since then, I have tried almost every system available, including Things, Remember the Milk, OmniFocus, Midnight Inbox, iGTD, Wunderlist, and many more.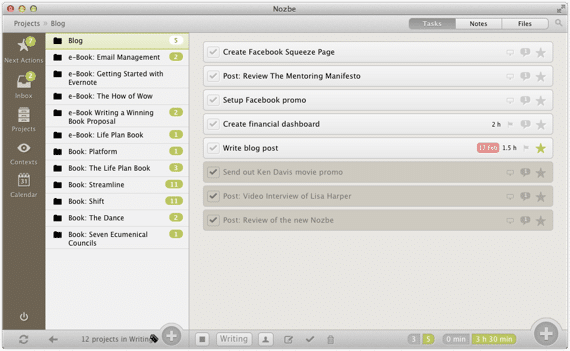 But the one I have used for more than four years is Nozbe. In my view, nothing else comes close. The company just released a new desktop version (both Windows and Mac), which I have been beta-testing for the past few months.
If you are looking for a task management software tool—or are tired of the limitations of the one you have—here are eight reasons you should consider Nozbe:
It follows the GTD methodology. This is the task-management methodology made popular by David Allen in his best-selling book, Getting Things Done (i.e, GTD). Rather than organizing tasks in a rigid, hierarchical fashion, he developed a flexible system for organizing tasks according to the context in which they are done (e.g., while online, while at the office, while at home, errands, phone calls, etc.) Nozbe follows this structure.
It has an elegant, beautiful interface. The interface is much different from the web version, which, frankly, was showing its age. (Note: it, too, is being completely redesigned.) The desktop version is faster and easier to use. In my opinion, it still needs some work. It is missing a Preferences panel, for example, along with standard Mac menu items and keyboard shortcuts. For example, rather than entering ⌘-N to start a new task, you enter the letter "a."
It has the ability to share projects. This is one of my favorite aspects of Nozbe. It is designed with teams in mind. You can easily share projects with others, so they show up in their Nozbe. You can then assign tasks to individuals. The best part is team members can comment on individual tasks to update the status of the project, share resources, and ask questions. For example, my wife, Gail, and I use this for sharing shopping lists.
It syncs seamlessly in the cloud. This is the primary reason I stopped using Things, another GTD task management system. It allowed you to sync over a WiFi network but not in the cloud. This proved to be too cumbersome in every day use. (The developer finally has a cloud version in beta, but the process has been painfully slow.) Nozbe uses auto-sync in the latest version, so everything is instantly synced in the cloud and pushed to every other device you have running Nozbe.
It works with third-party applications. This is another aspect of Nozbe I love. For example, you can forward e-mails to Nozbe so a task is automatically created and the e-mail is attached as a comment. You can also sync individual Evernote items to specific projects. This is very handy if you use Evernote as much as I do. You can also attach individual files to projects or link them using DropBox. This makes Nozbe a veritable command center.
It is available on almost every device. I use Nozbe on my MacBook Air, my iPad 3, and my iPhone. It is also available on Android. As a result, I always have my cloud-synced task management system with me, no matter what device I am using. The iPhone app in particular is a delight to use. And, I understand a HTML 5 version with offline support is in the works.
It provides a Quick Entry mode. Nozbe is easy to use but was built with power users in mind. The new quick entry mode, for example, allows you to enter a task and then, using a hashtag (i.e., the pound symbol) immediately add a context, project name, due date, etc. This is a big time-saver.
It is supported by an active development team. The founder of Nozbe, Michael Silwinski, is a personal friend of mine. His energetic, can-do attitude is infectious. He has a great vision for the product, leads a talented team, and is committed to releasing updates every few months.
The more I use Nozbe, the more I am impressed. It's not perfect—and it's not the least expensive—but it is better than anything else I have found on the market. The product is at once simple to use and yet full of numerous, advanced features. It is the only task management system I feel comfortable recommending.
The app itself is free. Nozbe makes its money by charging a subscription fee to sync your data between devices. It is worth every penny. However, you can try this service risk-free for sixty days. You can download the free Nozbe desktop apps (Mac and Windows) from the Nozbe home page.
Question: What task management software are you currently using? Share your answer on Facebook, Twitter, or LinkedIn.