The quest started over dinner with my agent. "You need to stop," she told me. "You're doing too many things. Stop spreading yourself so thin."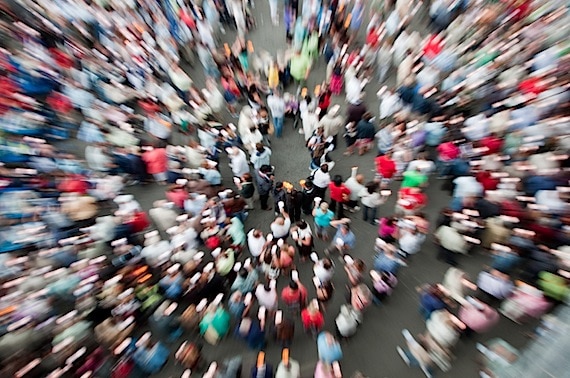 Photo courtesy of ©iStockphoto.com/Nikada
That was last summer, culminating a stress-induced year of running after every opportunity, not considering if it fit the way God made me or my mission. I see now that so much of what I chased after was based on fear, particularly worry over money. So I said yes to everything. And gave myself a nice little ulcer.
So I gave a few things up, but as winter crept forward, I turned off my "No" and embraced my "Yes" again. Which was fine, since I am one of those crazy high-capacity people. But eventually burnout erupted, and I decided it was time to revisit my agent's advice. But how?
I read Tribes, by Seth Godin. And I resonated with his words. Tribes are the people we lead. A tribe can be a small group or large. It's the group of folks you influence.
A little background: I'd been through a lot of marketing training by this point, but I hadn't given myself permission to truly allow myself to decide who I am. I tended to bend to the experts and acquiesce to their words, yet deep down I knew the tribe I wanted to lead. And since it didn't fit a particular "safe" model, I was afraid to name it. So I kept safe, twittering and Facebooking all over the map.
Enter Thin Places. The book of my heart. My memoir. I poured my life, my soul onto the page. When I read for the audio book in Nashville, the producer stopped recording partway through. He said, "Why did you write this book?"
"I don't want people who struggle to feel alone."
Something resonated when I gave that answer.
And when I started getting email upon email (far more than I'd ever received from other books) and phone calls and gifts from strangers. I knew the readers of Thin Places were my tribe.
Still, I needed direction. So I orchestrated a few strategies that may be helpful to you as you discern your tribe:
Ask your tribe. The readers of my ezine, Inside Renewal were the closest folks to my tribe in one place that I had.

So I asked: "What is my one thing?" My inbox flooded with answers, almost all of which had to do with communicating in an authentic way so people who struggled would find healing. Bingo!

You can do this same thing by sending a wide variety of people you know an email asking them to help you define you and your ministry.

Seek professional help. My friend Guy Richards at Abiah walked me through this process. In the end, after he asked me amazing questions, I wrote this: "To craft and communicate stories in such an authentic way that strugglers find healing and no longer feel alone." Wow, that was so me! But it took someone gifted in brand management to get me to that place.

I also asked my friend Sarah Markley for her expertise in analyzing my blog. Her input helped me change the way I do things. Just this week my traffic tripled because I wrote posts specifically geared to my tribe.

My friend Randy Ingermanson spent several hours with me helping me define my tribe and how I could better minister to them. These were folks God placed in my life. My hunch is that He's placed strategic people in your life who can take you through this process.

Do some soul-searching. Frederick Buechner says that the place that you ought to serve is "where your greatest joy meets the world's greatest need." So define that.

In your opinion, what is the world's greatest need? (Everyone's will be different). What is your greatest joy? How do they intersect in your life right now? How would you like them to?

Another exercise: List your three favorite movies. (Don't think about it; just list them.) Now look over your list. What is the common thread in all three? That common thread is typically your passion colliding with the world's greatest need.
So what does this mean? It means I had too many tribes, so I've had to say goodbye to some followers. It means I finally have given myself permission to be the woman God has called me to be—to share with men and women the healing God can bring to broken lives. It means I now have focus. It means that my story has meaning in the great scheme of the kingdom of God.
And it means I can rest in God's sovereignty as I pray for the success of Thin Places. My hope is that it hand sells, struggler to struggler, much the way Blue Like Jazz or Same Kind of Different as Me touched folks. I have no doubt those authors knew their personal collision of the world's greatest need with their greatest passion. And it's my sincere prayer that you would discover the intersection too as you seek to define your one thing, your tribe, and the direction of your ministry.
Questions: What do you see as the world's greatest need? What is your greatest passion?