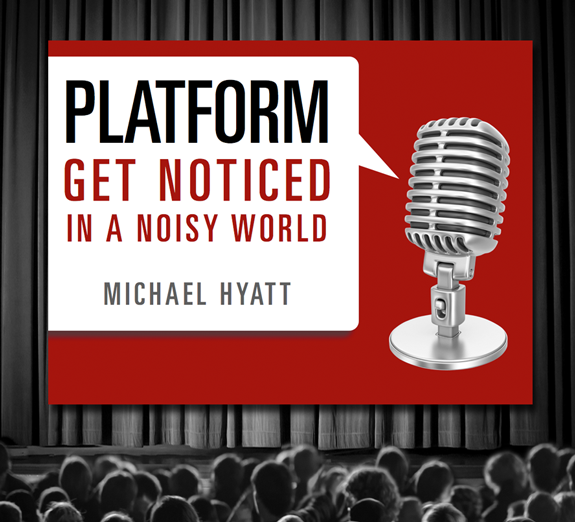 Quick Summary
In today's hyper-noisy world, it is hard to get anyone's attention. You need a platform to be seen and heard. Thankfully, it's never been easier. In this presentation, I discuss how to use social media to build your brand, decrease your marketing costs, and increase your impact.
Presentation Outline
Using examples from my own experience as well as relevant case studies, I explain that building a platform involves five steps:
The process involves five steps:
| | |
| --- | --- |
| | 1. Start with wow. David Ogilvy said, "Great marketing only makes a bad product fail faster." This is particularly true in the world of social media where word of mouth spreads exponentially. If you don't exceed customer expectations, more marketing won't save you. |
| | 2. Prepare to launch. You're always launching something: a new business, a new product, or a new program. To be successful, you must have the right mindset. This begins by accepting personal responsibility for the outcomes while acknowledging your can't do it all yourself. |
| | 3. Build your home base. People get overwhelmed when it comes to social media. Blogs, Twitter, Facebook, LinkedIn, Google+, etc. How does it all fit together. Michael provides a social media framework that shows how they all fit together and where you should focus your resources. |
| | 4. Expand your reach. Interruption-based marketing is dead. The new marketing is about generosity and relevance. It involves telling stories, adding value, and sharing resources. It also involves getting out into the marketplace where your prospects are congregating. |
| | 5. Engage your tribe. Tribes used to be about geography, ethnicity, and a common history. Today they are about people who share similar passions. Examples include Apple, Dave Ramsey, and Harley Davidson. To build this kind of tribe you must discover your own passion and be willing to lead. |
I conclude with an inspirational challenge: you are not here by accident. This is your time to take your platform to the next level and begin reaping the rewards.
Target Audience
Anyone who wants to get noticed, from individuals trying to build a personal brand to large corporations and non-profits trying to create their own proprietary media channel. I have spoken on this topic to a wide array of industries—mortgage bankers, realtors, financial advisors, business consultants, small business associations, and international relief organizations.
Possible Formats
This presentation can be delivered as a keynote, workshop, or half-day seminar. Keynotes can range from 30–70 minutes, depending on your needs. The ideal keynote length is one hour.
Intended Outcomes
Audience members will be convinced that building a platform is not only necessary but inspired that it is possible.
Audience members will have a framework that will enable them to think strategically about marketing in the age of social media.
Audience members will leave with practical, actionable steps they can implement immediately.
Topic Authority
I am the author of Platform: Get Noticed in a Noisy World (Thomas Nelson, 2012). It is a New York Times, Wall Street Journal, USA Today, and Amazon bestseller.
I have built my own platform from scratch to its current size. My blog is one of the top three business blogs on the Internet with more than 300,000 monthly visitors and 70,000 subscribers.
My weekly podcast, This Is Your Life, is consistently ranked as one of iTunes top ten business podcasts.
I built my platform while serving as CEO of Thomas Nelson, the seventh largest book publisher in the U.S. I used what I learned to grow my company's visibility, revenues, and profits.
Other Presentations