I'd like to invite you to join me for a free, LIVE Platform Teleseminar on Tuesday, June 19th at 8:00 pm Eastern Time (7:00 pm Central, 6:00 pm Mountain, 5:00 pm Pacific).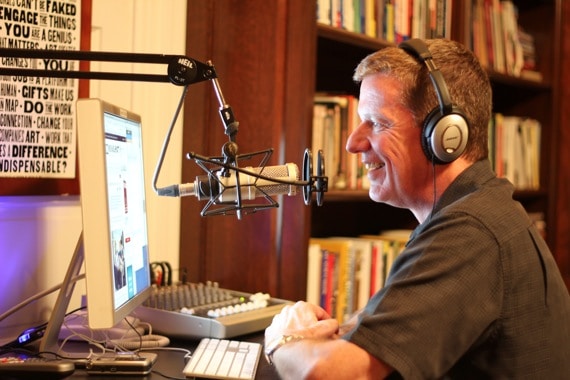 During the call, I'll share several HELPFUL TIPS to help you jumpstart your own platform or expand your existing one. I'll share specific visibility-generating advice for authors, entrepreneurs, pastors, professional speakers, small business owners, corporate brand managers, and more.
I'll also answer questions LIVE—a perfect opportunity for you to ask me anything about platform-building, blogging, social media, or publishing. But you must register to participate.
What You'll Learn
I will begin by sharing how I built my own platform from 100 readers a month to 300,000. I will explain:
What a platform is and why you MUST have one to succeed in today's noisy marketplace.
The five steps you must take to build a powerful, personal platform (and why they must happen in order).
The one attribute your product or service must have in order to harness the power of word-of-mouth and turn your best customers into unpaid evangelists.
The mindset you must acquire before you launch any significant new product, cause, or brand.
A social media framework that will keep you from getting overwhelmed and enable you to stay focused on what really matters.
Why you can kiss traditional marketing goodbye—what no longer works and what does.
A single metaphor that explains what engagement is and how you can be more effective at it.
The main obstacle standing between you success—and how to overcome it.
How to Register
This call is FREE. You can access it LIVE by phone or a streaming web audio player. And yes, I will make the recording of the call available sometime after the call.
Please note: I only have room for 3,000 people on this teleseminar. (That's the limit imposed by our hosting company.) Therefore, you must register now to participate.
Register for the FREE Platform Teleseminar
I am really excited about this online event. I want to give you a jumpstart in building your platform. I know personally what this can mean for your future.
If you still have questions, read the FAQs below.
FAQs
Q: What is a teleseminar?
A: Think of it as a giant conference call. You dial in (or listen via streaming web audio), along with others and listen while I share and answer questions.
Q: How much does this cost?
A: It's free. If you choose to access the LIVE call via phone, you may incur standard long-distance charges if you choose a dial-in number that is not local to you (there are multiple dial-in number options). Other than that, no fee at all.
Q: What is the date and time?
A: The LIVE call will take place on Tuesday, June 19th, at 8:00 pm Eastern Time (7:00 pm Central, 6:00 pm Mountain, 5:00 pm Pacific).
Q: How can I access the LIVE call?
A: You'll have two options. Our call capacity is 3000 total. Five hundred can access the call via phone, the rest via streaming web audio (listening via your computer). Access is on a first-come, first-served based on registration and which access option you chose. We will notify you prior to the call with the specific phone number and web address.
Q: I can't make the LIVE call. Will there be a recording?
A: Yes, I will make a recording available after the LIVE call. You are welcome to listen to that recording and share it with others. You'll have the option to listen to a replay online or download the MP3 file.
Q: How do I ask a question for you to answer during the call?
A: When you register there will be an option for you to submit a question. I'll do my best to answer as many questions as possible during the LIVE call. However, I will likely not get to all of them. I'll try to make sure I address common themes.
Q: Do I need any special equipment?
A: No, nothing special needed. You won't need to download anything to access the call. If you use the dial-in access then you simply make a phone call. If you use the streaming web access then you simply open a web browser, click play, and listen. I will send the instructions to you via email.
Q: When do I get access information after I register?
A: I will send you access information via email a day or two before the call and a reminder email on the day of the call.
Question: What appeals to you the most about building a platform or taking yours to the next level? You can leave a comment by
clicking here
.