Two weeks ago, two of our dear friends celebrated their fortieth wedding anniversary. Their daughter asked me to photograph the event, knowing that I am an amateur photographer. I happily agreed.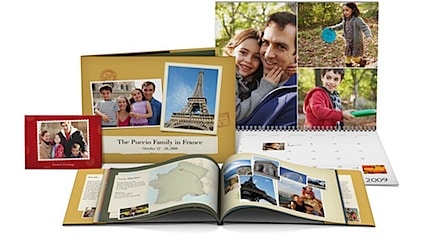 I took about 250 photos altogether, using the quantity-over-quality method of photography. (I assume that if I shoot enough pictures, I'm bound to get something I can use.)Last weekend, I sorted through these photos in iPhoto, assigning ratings and then editing the best ones. Next, I assembled the photos into an iPhoto book. The whole process took about four hours from start to finish. I then uploaded the files to Apple early Monday morning with two-clicks.
On Friday—a mere four days later—Apple delivered to me an elegant hardcover book, with a full-color dust jacket. It contained almost 100 color photos on 40 pages. It cost $49.79 plus tax and express postage for a total of $70.76.
That's not cheap if you compare it to a typical, mass-produced hardcover book. But for a one-of-a-kind custom, coffee-table quality book, I think it's a bargain. And my friends loved it.
This is the third book I have created like this. I am always amazed by the process. But it also makes me wonder, What will this mean for traditional publishers?
Question: What do you think this process will mean for traditional publishing and bookselling.