What do the pros know about standing out in a crowded marketplace? This Wednesday I'm delivering a live webinar for bloggers, speakers, podcasters—anyone with something to say or sell—that reveals the secret.
In this webinar, I am sharing "The Standout Formula: 8 Small Tweaks for Big Growth, Impact, and Profitability Online." If you want to build your platform and positively impact the lives of others but feel like you're not getting the kind of traction you want, this webinar could be just the catalyst you need.
I'm offering both a daytime and an evening session: Wednesday, September 17, at 12:00 p.m. Central and again at 8:00 p.m. Central. There's no charge, but the number of spots are limited.
Register Now for FREE Daytime Session!
Register Now for FREE Evening Session!
The training in this webinar represents some of my best work. It captures years of discovery and experimentation—all focused on how to win in a crowded marketplace. It's a proven formula for a standout platform.
I've seen firsthand the difference this information has had on my platform. Just look at the trajectory of my pageviews: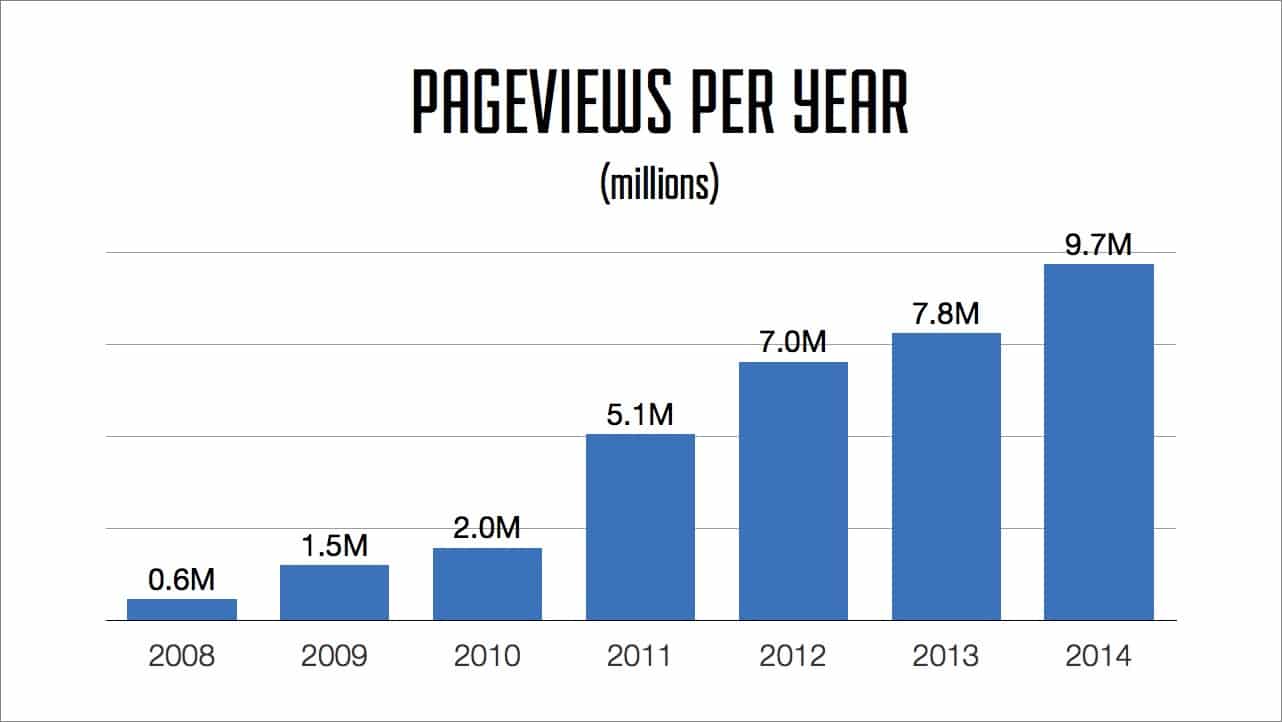 It's resulted in more web traffic, a larger social media following, and more revenue. I have basically doubled my business in each of the last three years. Most importantly I've expanded my impact with the audience I look to serve.
But—and this is where you come in—I've also seen the difference firsthand with people I've been coaching for the last several years. This formula works.
The webinar reveals:
Why most platform-builders plateau at a few hundred visitors a month. Hint: It has nothing to do with your content.
How to get crystal clear on your audience and their needs. This is easier than you think once you have my four-part template.
Why a brand slogan is crucial in keeping first-time visitors from bouncing off your site. Miss this and you'll likely lose them forever.
The kind of headshot that instantly builds trust and rapport. Also, the three types of photos you need if you are serious about making money online.
One simple technique for establishing authority with your target audience. It has nothing to do with your experience, education, or skills.
How to use your About page to convert first-time visitors into long-term subscribers. Most bloggers—even well-known ones—miss this opportunity.
The one piece of content that can turn your blog into a serious source of profit, and a step-by-step guide to creating it. You can do it this week!
How to use your social media profiles to build your brand and generate a ton of fresh new leads.
As I said before, there's no charge for this webinar. But the number of spots are limited. We've tried to accommodate as many people as possible by offering the training at two separate times. I am delivering it live both times, and I have a special workbook to guide you through the process—and create an action plan—immediately after you register.
Register Now for FREE Daytime Session!
Register Now for FREE Evening Session!
These live training sessions do hit their attendance limit pretty quickly, so be sure to register and show up ten to fifteen minutes early. I'll be available afterwards to answer any questions you might have.
If you have a message you want to share with more people, join me. If you want to help more people with your knowledge, join me. If you want to grow your online following, join me.
Most importantly, if you're confused about what to do next to build your platform and finally stand out from your competitors, please join me Wednesday. But don't wait to sign up—available slots will go fast.
We are in the last quarter of 2014. There's still time to make this year one to remember!