Today is the first day of our 2010 fiscal year at Thomas Nelson. It is our 212th year in business. It is a day full of new beginnings and possibilities. As I thought about that today, I thought it might be good to take a quick look at the past as we prepare for the future.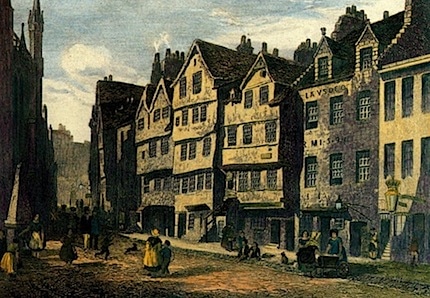 Thomas Nelson's Gaelic ancestors had a popular proverb: "Cuimhnich air na daoine o'n d'thainig thu." It means, "Remember the people from whom you have come." This is a wise and powerful saying. It is often forgotten in our modern world that places such a high value on everything new and shiny. But remembering our ancestors often provides a treasure-trove of resources for meeting the challenges of today.
Our company began in Scotland with the birth of Thomas Neilson [sic] in 1780. Though his parents were farmers, he developed an interest in printing, the most high-tech industry of the 18th century. As a result, his parents sent him to London to become an apprentice in a print shop on Paternoster Row, which was kind of the Silicon Valley of the Day.In 1798, at the tender age of 18, Neilson started a second-hand bookstore in Edinburgh, Scotland. The store was located at 7 West Bow Street. The store did quite well, but in the early 1800s, he decided to branch out. He began to realize there was a market for inexpensive editions of public domain books. So, in 1818, he began reprinting the classics. He also legally changed the spelling of his name to "Nelson."
Unlike other publishers who catered to the wealthy, Thomas Nelson had a vision to make the world's greatest books affordable to "common folk." At first, other booksellers boycotted his inexpensive editions. So, he went around them and held book fairs in various towns and villages around Edinburgh.
In 1829, he launched another publishing innovation. He sent out traveling sales reps to call on booksellers in southern Scotland and northern England. This was also initially resisted by booksellers but eventually became the industry norm.
Thomas Nelson had two sons. William joined the firm in 1835 at the age of 19. He took responsibility for the sales and marketing side of the business. Thomas, Jr. joined the firm in 1839 at the age of 17. He took responsibility for the editorial and production side of the business. The Nelson brothers brought fresh energy and vision to the company. It grew rapidly.
Thomas Nelson and his sons soon moved the company from West Bow to Castle Hill. They also opened an office in London at 35 Paternoster Row—the very street where Thomas Nelson had been a printer's apprentice as a teenager.
But just a few years later, with increasing demand for their books, they outgrew the Castle Hill facility. In 1845, they built a new facility at Hope Park on the south side of Edinburgh. By 1878, thirty-three years later they had over 400 employees.
In 1850, Thomas, Jr. perfected a rotary press, and demonstrated a model of it at the Great Exhibition in London the following year. It is no exaggeration to say that this was the single biggest technological advance in printing since Gutenberg. It dramatically reduced the cost of printing, making books even more affordable for the masses. Because he never patented his invention, it was quickly replicated and adopted by publishers and printers throughout the world.
By 1854, Thomas Nelson had become the largest publisher in Scotland. In that same year, the company opened an office in New York City. It was the first British publisher to do so. In addition to Edinburgh, London, and New York, it would eventually have offices in Toronto, Leipzig, Sydney, Capetown, and other African cities.
For some families, employment at Thomas Nelson was a hereditary occupation. Many workers spent the whole of their career at the company. The company had a structured system of training and apprenticeship programs. It even fed its employees one meal a day at the company's expense. They often invited preachers in to speak to the employees while they ate.
Thomas Nelson, Sr. himself died in Edinburgh on March 23, 1861. He was 81 years old. To the end, he demonstrated the faith and integrity that had guided him throughout his life. When he was told that his death was near, he replied calmly, "I thought so; my days are wholly in God's hands. He doeth all things well. His will be done!" He then picked up his Bible on his bedside table and said, "Now I must finish my chapter."
While Thomas Nelson and his sons prospered, they were not immune to hardship.
In April 1878, the expanded Hope Park facility, the company's main headquarters, production plant, and warehouse, completely burned to the ground. Not a single book, piece of machinery, or building survived. Yet, while the ruins still smoldered, Thomas, Jr. was already ordering new presses and other equipment. Thankfully, workers discovered that a number of plates, woodcuts, and type, stored in fireproof vaults, had escaped destruction. The city of Edinburgh helped set up temporary work areas and competing printers offered time on their presses. Within two months, the company was back up and running.
Two years later, Thomas Nelson moved into a new facility at Parkside Terrace, on Edinburgh's south side. In 1885, the company published its first Bible, the King James Version. This move proved to be strategic. Bible publishing soon become the company's second largest business. William died in 1887 at the age of 70. Thomas, Jr. died in 1892 at the age of 71. It was the end of an era.
George Brown, Thomas, Jr.'s son-in-law, and John Buchan, a renowned novelist, biographer, and political correspondent, took over the day-to-day management of the company. Thomas, Jr. had two sons, Tommy and Ian. When they finished their education, they joined the firm and eventually took the helm. By the early 1900s, the company had become the largest publisher in the English language.
Unfortunately, the company suffered another major setback in 1917. After 18 months on the front line, Tommy Nelson was killed in battle. Buchan wrote, "His death made a bigger hole in the life of Scotland than any other man of his years…. He was a rare being because he was so superbly normal." He was 40 years old.
Following Tommy's death, his brother Ian took over. This began the long, slow decline of the company. He just didn't seem to have a talent for running the large multi-national publishing company that Thomas Nelson had become.
The company suffered another setback in WWII. At the height of the German blitz, the company's London offices were bombed to rubble. It took years for the company to fully recover. This was due, no doubt, to Ian's lack of leadership ability and the difficult economic circumstances in Europe following the war. Worse, the company lost its sense of mission and vision. It began to drift.
At this point, further decline was inevitable. Ian died in 1958. His son Ronald took over. He had less ability than his father and even less interest in the business. In 1962, it was merged into The Thomson Organization. The new management separated the editorial and printing businesses and sold the Edinburgh operation. In reality this was the death of the company.
Meanwhile, back in the U.S., a young Lebanese immigrant by the name of Sam Moore had started his own publishing company. In 1958, he founded the National Book Company to sell Bibles door-to-door. In 1962, he incorporated Royal Publishing, so that he could print Bibles himself. To finance the venture, he sold stock to about 250 people, including Billy Graham's mother.
The new company published its first Bible in 1963. It grew over 100% a year for each of the next five years. Moore became so successful that Lord Thomson, head of the Thomson organization, invited Sam to lead the U.S. office of Thomas Nelson. Sam prayed about the offer and then surprised Lord Thomson by offering to buy Thomas Nelson.
On March 7, 1969, Royal Publishers acquired Thomas Nelson and adopted its name. The company flourished under Moore's leadership. He was the company's CEO for 36 years, retiring in August 2005, after the biggest year in the company's history. I succeeded Sam Moore as the company's CEO and continue to serve in that role.
Today, Thomas Nelson is the largest Christian publisher in the world and the seventh largest trade book publisher in the U.S. We have two campuses—one in Nashville and one in Dallas—and approximately 500 employees. Recently, we opened offices in Rio de Janeiro and Mexico City. While publishing is still at the heart of what we do, we also host live events through our Women of Faith and Revolve conference brands. We are more open than ever to new technologies and formats that will enable us to fulfill the simple vision of our founder to "honor God and serve people."
Note: If you are interested, you can view a gallery of old Thomas Nelson photos and paintings here.
Question: Who are the people from whom you have come? How could their history have an ongoing, positive impact on your future?