Last week, I conducted my 2010 Reader Survey. This was my second year to do it. As of this writing, more than 1,700 people have completed the survey. In my original post, I promised to summarize the results.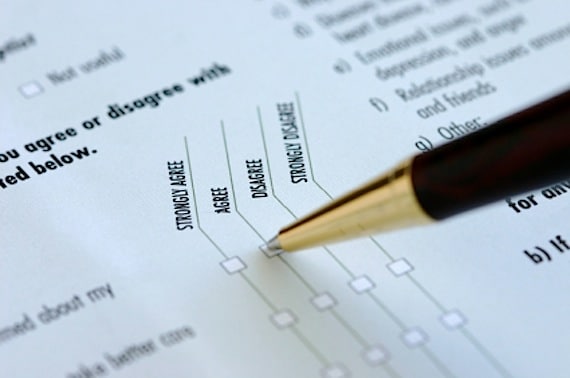 Photo courtesy of ©iStockphoto.com/spxChrome
If I boiled the survey results down into a "reader profile," it would look like this. My typical reader is a male (60%) between the ages of 31–50 (57%). He has at least a college degree (76%) and household income of $70,000 or more (54%). He lives in the U.S. (86%), most likely in the southeastern part of the country (36%). He is an active Christian (94%), attending church at least once a week (84%), and his faith is very important to him (90%).
He is extremely committed to personal growth and reads two or more books a month (73%). He reads most of my blog posts (83%) and is especially interested in those related to the topic of leadership (75%)—probably because he serves in a leadership capacity in his local church (93%). He also avails himself of other forms of learning, such as conferences (74%) and webinars (71%), and intends to pursue additional formal education (51%).
He is very active in social media, including Facebook (85%) and Twitter (72%). He has a need for self-expression, as evidenced by the fact that he has a blog (66%) and posts to it at least once a week. He also has a book idea (59%) that he hopes to write and get published.
If you are a survey geek and want to see the specific responses to each question, including the reader comments, you may do so by clicking here. All the responses are anonymous; I can't tell how any one person voted.
I also received more than 600 open-ended reader comments about how I could improve my blog. These were the most helpful part of the survey. As a result of reading these, I have come to four conclusions:
I need to create a separate publishing blog. Those who are interested in leadership (the majority) aren't necessarily interested in publishing—and vice versa.
My posts should be shorter. I am going to shoot for a 500-word limit. (I usually write 800 to 1,000 words.) If it becomes longer than that, I will break into multiple posts.
I need to include more video content. Some readers indicated an interest in seeing my workflow or interviews with some of the leaders I get to meet because of my business.
I'll never please everyone. It was amazing how many contrary opinions there were. For example, some think I post too much; others, too little.
I intend to continue my Reader Survey on an annual basis. It is a huge help in making sure that I provide better, more relevant content. Thanks to each of you who participated.
Question: What questions should I have asked but didn't? What additional insights do you see in the data?