I have a special place in my heart for young moms who are super-busy, stressed out, and exhausted. Years ago, I watched my own wife, Gail trudge through this season of our life.
While I was caught up in the demands of my own career, she struggled to raise our five daughters and take care of herself at the same time. It wasn't easy. Sometimes it seemed impossible.

Now I see my adult daughters going through this same season in their own families. Their challenges, to-do lists, and commitments are long. There just doesn't seem to be enough time or energy to get it all done. I don't know how they do it.
Thankfully, there are more resources today than ever before. One of the best ones I have come across is my friend Crystal Paine's brand new book, Say Goodbye to Survival Mode: 9 Simple Strategies to Stress Less, Sleep More, and Restore Your Passion for Life. I read it last night in one sitting.
In case you are not familiar with Crystal, she is the founder of the outrageously popular blog, MoneySavingMom.com. It gets more than a million unique visitors a month. Her Facebook page has more than half a million likes. She is married to Jesse, an attorney, and has three young children under the age of ten.
Even though the book is written specifically for women, I found it tremendously valuable—even as a middle aged man. Here are five reasons why:
She understands our complex, demanding world. More specifically, she knows first-hand what it's like to feel overwhelmed and burned out.

She is brutally honest with her own life, including the mistakes she has made along the way. She doesn't set herself up as a guide so much as a fellow-traveler.

She offers practical strategies and tools. Though Crystal is long on empathy and compassion, she doesn't get stuck there. This is a book for people who are sick and tired of being sick and tired.

She offers practical, real-world solutions that will get you from where you are to where you want to be. The book is full of steps, tips, lists, checklists, and forms. Here's a sampling of what you will find:

how to become more self-disciplined;
how to set and keep goals;
how to manage your time, money, and home;
how to juggle responsibilities and self-care;
how to experience less stress and more joy;
how to rediscover your passion and purpose for life; and
how to keep a balanced life perspective and make a difference in big and small ways.

She doesn't assume her way is the only way. She explains her practice—often in meticulous detail—but then admits her way is only one way to solve the problem.

She allows lots of room for differences in temperament, seasons of life, and available resources. I found this refreshing.

She never loses sight of the big picture. So many books about productivity and organization get lost in the process. It becomes an end in itself.

Crystal never does this. She writes from a values-based perspective. Everything she shares is designed to help you make room for what really matters—to you.

She provides perspective and hope. Crystal didn't figure it all out at once. Like me, when she tried to get control of her life, she over-dialed it. She got too obsessive and too controlling.

But after failing at this, she dialed it back and found the balance. This made me realize I am not alone. Even someone as successful as Crystal struggles to find that middle path between control and chaos.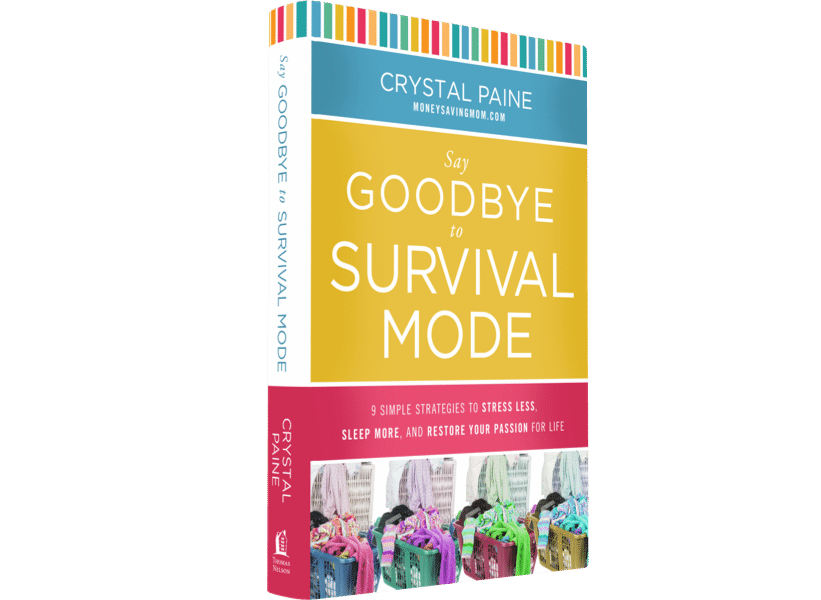 If you are a mom who feels overwhelmed and discouraged, I urge you to read Say Goodbye to Survival Mode. Things really can be different and Crystal shows you how. You don't have to struggle alone.
But if you are not a mom, you probably know someone who needs this book right now. It provides tons of ways to organize your life, become more organized, and free yourself up to pursue your real calling.
By the way, if you buy the book now, Crystal will give you $125 in free bonuses and discounts. But you need to hurry. This is the pre-launch offer and it ends tonight, January 20th, at midnight.
Question: Where do you feel overwhelmed in your life right now? Share your answer on Facebook, Twitter, or LinkedIn.