Welcome to Season 8, Episode 4 of the This Is Your Life podcast. In this episode, Michele Cushatt and I discuss how you can become a storm-proof leader.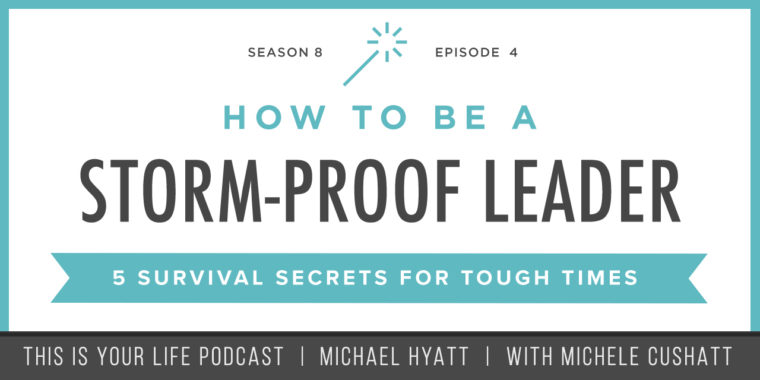 Change and conflict aren't new. Tough times WILL come—it's a guarantee. For that reason, you and I need to learn how we're going to respond before the storm happens. In this episode, we give you 5 survival secrets for leading in turbulent times.
Listen to the Audio
Subscribe to Podcast in iTunes
NOTE: We are not recording a video version of the podcast this season. Enjoy the audio or subscribe to the podcast above.
In this episode, you'll discover:
The difference between leaders who panic and those who bring calm and reassurance.

The importance of honestly confronting the brutal facts of your current reality.

What one prisoner of war did to prevail in the midst of horrible circumstances.

How to know when it's time to change course and reallocate your resources.
Read the Transcript
You can download a complete, word-for-word transcript of this episode here, courtesy of Ginger Schell, a professional transcriptionist, who does all my transcriptions.
Join the Conversation
My favorite part of doing these podcasts is participating in the conversation they provoke. Each week, I ask one question. This week, it is this:
Question: Have you ever worked with a storm-proof leader? What did they do that impressed you? You can leave a comment by clicking here.
Explore Additional Resources
In this episode we mentioned the following resources:
Are you a rockstar in your field and a master of your craft?
Michael Hyatt & Company is hiring
—and you might be just what we're looking for. We've got a world-class team of the best in the industry—and world-class benefits to match. Our full-time salaried employees enjoy working remotely, unlimited PTO (no, that's not a typo), no-cap bonus plans, a paid 1-month sabbatical every 3 years, premium health care coverage, and more. Take the first step to claim the life and career you want—
check out our current open positions.
About Us
Michael Hyatt is the author of the New York Times, Wall Street Journal, and USA Today bestseller, Platform: Get Noticed in a Noisy World. Recognized by magazines like Forbes and Inc as an important online marketing and leadership expert, he's also the founder of Platform University and 5 Days to Your Best Year Ever. Read more about him here.
Michele Cushatt is a popular speaker and author. Follow her on Facebook, Twitter, or her blog. She's a three-time cancer survivor with a powerful, personal story. Listen to it here or read about it in her memoir, Undone: A Story of Making Peace with an Imperfect Life.
Subscribe to the Podcast
If you have enjoyed this podcast, please subscribe:

| | |
| --- | --- |
| iTunes | RSS |
Share the Love
If you enjoyed the show, please rate it on iTunes and write a brief review. That would help tremendously in getting the word out and raising the visibility of the show.