Welcome to Season 6, Episode 13 of the This Is Your Life podcast. If you're an aspiring author, you're going to love this episode. Why? Michele Cushatt and I discuss how to win with your first book.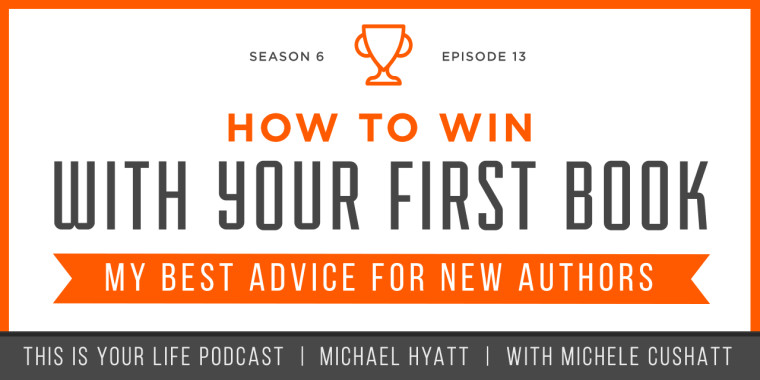 Whether you're an entrepreneur, counselor, pastor, or pundit, writing a book is one of those bucket-list items, isn't it? But navigating the publishing world is like exploring a new country. You need a guide, and today I want to share my best advice for new authors.
Listen to the Audio
Subscribe to Podcast in iTunes
Watch the Video
In this episode, you'll discover:
Insights I learned from over thirty-five years in the publishing business.
Why getting started in publishing means getting educated in the trade.
A trick one of the best-selling authors of all time uses to stay on his game.
What you need to do to ensure you can hook an agent, ink a deal, and create visibility for your book.
One tactic you can employ to drive crazy subscriptions to your email list.
How to decide between self-publishing and traditional publishing.
Read the Transcript
You can download a complete, word-for-word transcript of this episode here, courtesy of Ginger Schell, a professional transcriptionist, who does all my transcriptions.
Join the Conversation
My favorite part of doing these podcasts is participating in the conversation they provoke. Each week, I ask one question. This week, it is this:
Question: Do you have a book in you? What is it? You can leave a comment by clicking here.
Explore Additional Resources
In this episode we mentioned the following resources:
About Us
Michael Hyatt is the author of the New York Times, Wall Street Journal, and USA Today bestseller, Platform: Get Noticed in a Noisy World. Recognized by magazines like Forbes and Inc as an important online marketing and leadership expert, he's also the founder of Platform University and 5 Days to Your Best Year Ever. Read more about him here.
Michele Cushatt is a popular speaker and author. Follow her on Facebook, Twitter, or her blog. She's a three-time cancer survivor with a powerful, personal story. Listen to it here or read about it in her memoir, Undone: A Story of Making Peace with an Imperfect Life.
Ask Us a Question
If you have a question, comment, thought or concern, you can do so by clicking here. We'd love to hear from you.
Subscribe to the Podcast
If you have enjoyed this podcast, please subscribe:

| | |
| --- | --- |
| iTunes | RSS |
Share the Love
If you enjoyed the show, please rate it on iTunes and write a brief review. That would help tremendously in getting the word out and raising the visibility of the show.