A little over a month ago, I issued the The 2008 Half Marathon Challenge. I invited our employees, spouses, authors and agents to run either the The Big-D Texas Marathon & Half Marathon in Dallas on April 6 or The Country Music Marathon & Half Marathon in Nashville on April 26. So far, we have 102 employees signed up. My goal is 158.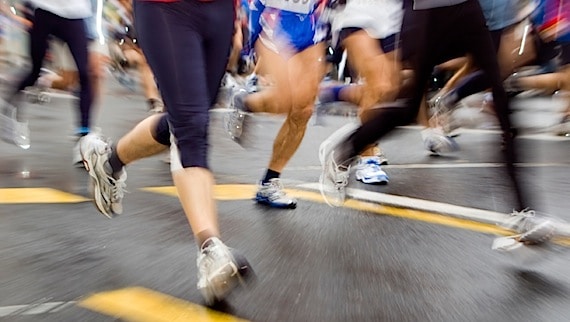 Photo courtesy of ©iStockphoto.com/dulezidar
In various meetings last week, several people told me they were "on the fence." This post is a shameless attempt to get you off the fence and sign-up! Here are seven reasons why you need to do so:
It will get you into the best shape of your life. I'm fifty-two years old. I can honestly say that I have never been in better shape. I feel great! I didn't feel this way eighteen months ago. Before I started running, I was twenty pounds overweight. I wasn't sleeping well. I was worried about growing older and thought that perhaps this was just the aging process. Wrong! It doesn't have to be that way, and I have proven it to myself.
It will make you more energetic and productive than you ever thought possible. This is the surprising thing about any kind of exercise. You think it would make you more tired because you are expending energy. However, I have experienced just the opposite. Since I have started running, I am more energetic and productive than I have ever been—and I wasn't doing too badly before.
It will teach you an enormous amount about goal-setting—and the ups and downs along the way. Whenever you set a goal, you almost immediately encounter Resistance. (See The War of Art by Steven Pressfield for a great discussion of this phenomenon. He's the same one who wrote The Legend of Bagger Vance.) This also happens with running. However, you have more control over the variables than other projects, so it comes down to passion and discipline. Running is a great metaphor for how all of life works.
It will give you an exhilarating sense of accomplishment when you finish. I loved running across the finish line last year. So did scores of my colleagues here at Thomas Nelson. There's no feeling quite like it. I think I was high for days. As I have spoken with other runners, I have discovered that this is a common experience. You will find that this spills over into other areas of your life.
It will test your resolve in ways that will be applicable to every other area of your life. When I decided I would run again this year, I created a spreadsheet. I mapped out every run leading up to the race. However, the whole thing blew up two weeks into my plan when I developed plantar fasciitis. This indeed tested my resolve. It would have been so easy to quit. After all, I had a good excuse. But I refused. I have been working out on the elliptical machine and the stationary bike. Frankly, I needed this kind of cross-training, and my injury has forced me to do it. And I am still progressing toward my goal.
It will give you the confidence to take on other significant life goals. Achieving any important goal will help build your confidence. In this sense, running is no different. It was a huge boost to my own confidence. Since completing my first Half Marathon last year, I have noticed that I am willing to dream bigger and set higher goals. I suddenly realize that more is possible.
It will model taking care of yourself to the other significant people in your life. I think this is really important. Whether you think of yourself as a leader or not, others look up to you. Maybe it's your employees, your children, or even your spouse. When you decide to walk or run, you model the importance of taking care of yourself. If you don't take care of yourself, you won't be of much use to anyone else.
This is by no means an exhaustive list. These are simply my reasons. What are yours?
If you haven't signed up yet, what are you waiting for? Now is the only moment you have. Just by signing up, you will feel your life begin to shift. Come on. I dare you!