If there's one frustration I hear more than any other from bloggers and platform builders, it's low traffic and slow growth. The good news is that like hinges on doors, even small changes to our approach can create big swings in our results.
In my case, I've had periods where my blog traffic has jumped and others where it has plateaued. What usually triggers another jump is a small tweak or adjustment to how I'm doing things.
Here are three small changes that have been huge for my growth.
To learn how a handful of simple but powerful changes can help you grow your platform, sign up for my new video series,
Your Platform Makeover
. It's free for a limited time.
Click here
to watch it now.
1. I Got Focused on My Readers
When I first started blogging, it was mostly about sharing things I found interesting and important.
Most of us start here, and there's nothing wrong with it. It's just not enough if you want to hit the next level. The truth is the more we focus on our readers' interests, the better shot we have of increasing engagement.
What triggered a change for me was when I conducted my first reader survey in 2009. I was eager to monetize my site, and I needed a reader survey for advertisers.
I knew that it would help me better understand my readers, but I had no idea how much better—or how much it would change my approach. It was like a Copernican Revolution in my blogging that proved far more important to me than any ad revenue I earned.
Instead of hoping to find more readers who could revolve around my interests, I started intentionally creating content that fit into the orbit of my audience. The change paid off.
Once I had visibility into my readers' needs, I could address them more directly. As a result, my traffic went up immediately.
2. I Got Serious about My Headlines
Headlines are major. Information is so plentiful today that people primarily read by scanning. According to Brian Clark of CopyBlogger, 80 percent of readers will scan our headlines, but only about 20 percent will actually read the rest. If the headline doesn't grab readers, they'll never get to the content we worked so hard to create.
I first learned this lesson from book publishing. In bookstores—remember those?—the majority of titles are spine-out. For a book to have even a prayer, it needs an intriguing title, something that will compel a consumer to pull it down and see what's up.
When I took that learning to my blog posts, it dramatically improved my traffic because the headline gave readers reason to go deeper.
The main thing is to stay focused on the reader—what answers their need, speaks to their fears, offers them hope. People are tuned in to WIIFM, "What's in it for me?" If we can communicate that in a headline, we boost our chances of getting read and shared.
3. I Built My Email List
It's embarrassing to admit, but I was already six years into building my platform before I got serious about building an email list. I provided a prominent RSS button on my blog and thought that was enough. Not by a long shot.
One thing professional platform-builders agree about is the vital importance of building your email list. More email subscribers means more overall traffic. Not only is email more personal and better for two-way communication, when it comes to driving traffic it gives readers a simple and easy way to share your content.
I started building my list by offering opt-in bonuses for new subscribers and prompting readers to subscribe. It worked. Since 2010, I've gone from 2,771 subscribers to over 115,000, and my traffic has jumped as well.
Small Hinges Swing Big Doors
Most platform building involves a lot of trial and error, but there's no reason all the trials and errors have to be your own. You can learn from other people's experience.
These three changes have contributed major growth to my platform, as you can see from the increase in pageviews in the chart below.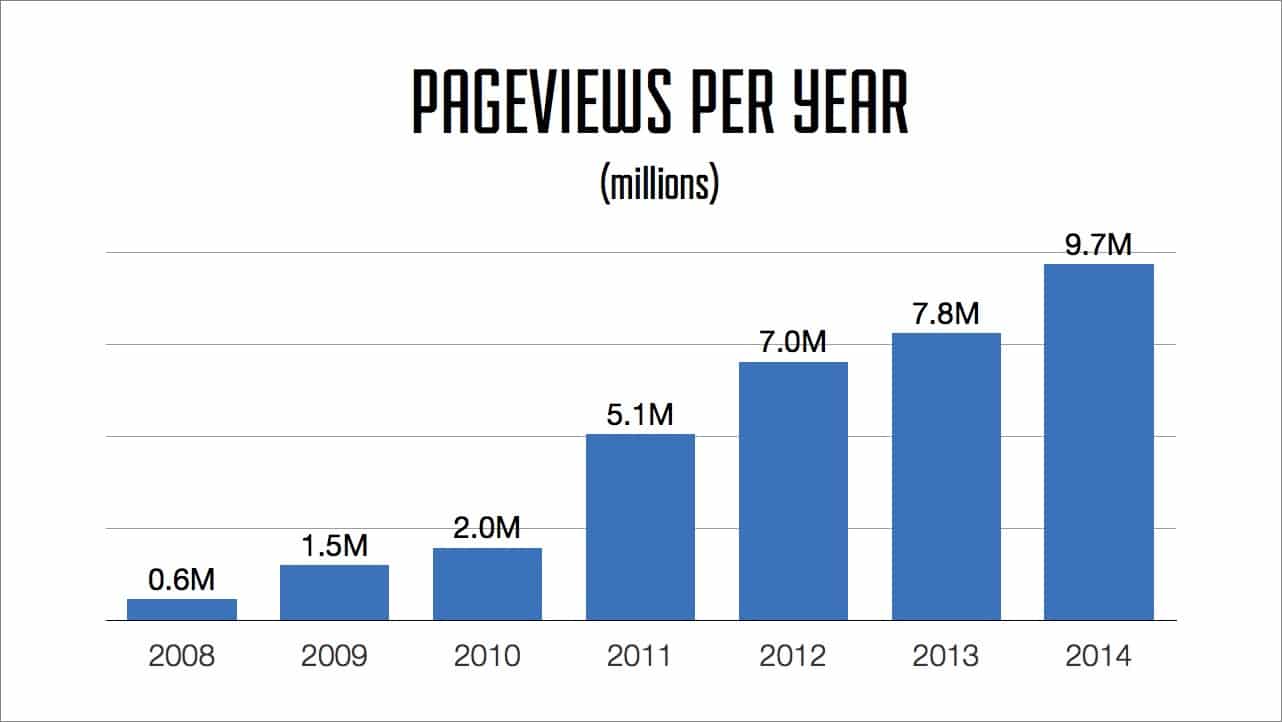 The truth is that small hinges swing big doors, and even minor tweaks to your approach can drive significant growth to your blog.
To learn how a handful of simple but powerful changes can help you grow your platform, sign up for my new video series,
Your Platform Makeover
. It's free for a limited time.
Click here
to watch it now.
Question: What changes have you found most effective for building your platform?