This page is specifically designed for the attendees of Social Media Marketing World held in San Diego, TN on March 26–28, 2014. I created it as a repository for my slides and other resources you will find helpful as you build your platform.
My Slides
The slides I used in my keynote are embedded below.
My Platform Journey
Here's a video you might also enjoy. In this one I tell the story about building my platform. We shot it for Platform University.
Platform University
Speaking of Platform University, if you are serious about building your platform, check it out. It's an exclusive members-only website designed to make learning faster and easier. It's affordable and risk-free. We offer a money-back guarantee.

WordPress How-to
If you are ready to launch a self-hosted WordPress site—like I talked about in my speech—here's a simple screencast I created. It will walk you through the entire process click-by-click. You can have a blog setup in 20 minutes or less!
The Platform Book
If you don't have my book, Platform: Get Noticed in a Noisy World, you can read about it here.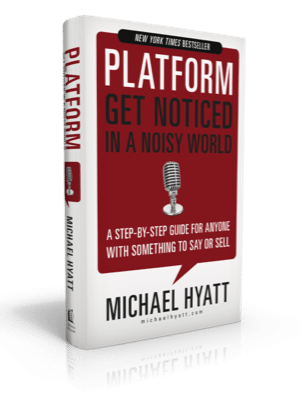 My Free Newsletter
If you'd like to keep up with me, please subscribe to my e-mail newsletter below. It's free!
I really enjoyed our time together. I hope you found my presentation helpful.