Last spring I attended the Professional Communicators Summit in Nashville, Tennessee. The conference is designed to assist leaders in either starting a professional speaking career or taking it to the next level. This is a fantastic resource, and one I want to encourage you to make plans now to attend. The next conference is March 18-20, 2010.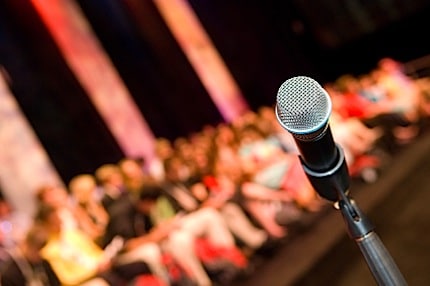 As someone who does a fair amount of speaking myself, I was confident I could benefit personally from the Summit. However, I also thought I could use this information with many of the authors I publish as the CEO of Thomas Nelson Publishers. I was right on both counts.
The conference is sponsored by Ken Davis. In case you are not familiar with Ken, he is a very popular Christian speaker and comedian. He has had a significant, wide-reaching career. He is also a student of speaking and, especially, the business of speaking. He has distilled everything he has learned in 30 years of professional speaking and used it to take hundreds of other speakers to the next level.
Over the course of three days, we learned four things:
How to discover our assets as a speaker. We took an inventory of our talents and gifts. We looked at our status and platform. We reviewed our own proprietary information and expertise. We even considered how we could convert our weaknesses into strengths. This was hugely eye-opening. I discovered that I had much more to work with than I originally thought.
How to design our products. Our "product" is all about how we package and sell our assets. We began with the question, "What product am I really promoting, selling, or delivering to your buyers? We then discussed four kinds of products:

A presentation at someone else's event
Our own events, like seminars or conferences
Resources, like books, DVDs, CDs, etc.
Services, like consulting, coaching, counseling, etc.

How to market our products. We discussed what marketing is and four steps to building a perception about our products. It was especially helpful to learn about the kinds of things that damage perception. We also discussed what meeting planners are looking for, how to develop effective promotional materials, and the pluses and minuses of speakers bureaus and booking agents.
How to determine our value. Frankly, this was one of the most helpful segments. We discussed why we should charge for our services, how much we should charge, and an extremely helpful pricing concept called "high bar/low bar." Ken even role-played a fee negotiation with one of the other instructors that demonstrated how natural this conversation can be and to do it in a way that is comfortable for both parties.
Ken was not the only instructor at the event. He had a team of dynamic communicators. I was also privileged to lead a session on "How Professional Speakers Can Get Published." I will also be speaking at this next event.
If you have been thinking about "going pro" by either starting a speaking career or taking your existing career to the next level, this is the conference for you. This is the only conference of this type that I am aware of. It is both motivational and practical. You will leave pumped up about the possibilities for your career, with concrete tools that you can put to work immediately.
Note: this is a sponsored post.
Question: Have you ever thought about a career as a professional speaker? If you are already speaking professionally, have you thought about taking it to the next level?