If you are serious about building a platform, you must be actively engaged in social media. Whether it is Twitter, Facebook, LinkedIn, Google+—or all four—you need to develop a tribe of loyal followers and super fans who want to hear what you have to say.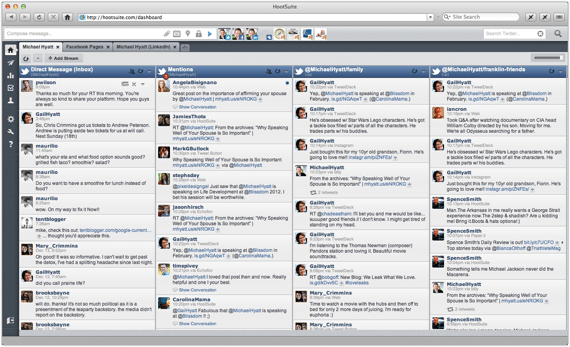 But who has the time? Social media can become a full-time job if you are not careful! And this leaves little time for doing your real job, whether it is writing, composing, programming, or doing something else.
However, if you take advantage of the latest social media software tools, you can leverage your time. With a small investment, you can produce big results. This is how I have built my platform.
Here are the three primary social media tasks and the software tools I am using to manage them:
Creating. I use Buffer to create most of my social media content. This is the most used tool in my toolbox. I use it for both Twitter and Facebook.

The basic idea is that you add posts to Buffer and it spreads them throughout the day, posting them at times you have predetermined. This ensures that you are posting on a regular basis without overwhelming your followers.

I do most of my reading in the morning. I scan 200+ blogs, using Google Reader. When I find something I think my followers would find helpful, I share it on Twitter and occasionally Facebook. The only problem is that this pattern can create a flood of posts. It quickly becomes annoying to my followers.

Now, when I find something I want to share, I simply click the Buffer icon in my browser. (Buffer offers browser extensions for Chrome, Safari, and FireFox. It even works with Google Reader.) I then compose my post, select which accounts I want to share it on, and then add it to my queue. Buffer then schedules these posts throughout the day.

The cool thing is that you can set up your own schedules. For example, I have determined that I will tweet thirteen times a day. But I want to update my status on Facebook only twice a day. When I add a post, Buffer put it in the next available slot. I can always rearrange these later, moving posts around in an easy-to-use, intuitive interface.

I still use HootSuite for direct messages, replies, and ad hoc posts, but I compose 80 percent or so of my tweets in Buffer.

Monitoring. I use HootSuite to monitor my social media accounts. This is my social media dashboard. It allows me to manage all my social media accounts: Twitter, Facebook, and LinkedIn. The biggest benefit of this software for me is that I can segregate my followers into "streams" (or columns) and follow different groups of people.

For example, with my Twitter account, I have the following streams:

Direct messages
Mentions (or replies)
Family
Friends
Sources
Publishing

Because I am interested in some streams more than others, I can focus my attention on those columns. For example, I check my Family stream several times a day but my Sources stream only once.

You can also create streams out of search terms. I often do this when I am participating in a conference. I simply search for the "hashtag" and create a stream from the results. The stream is updated in real time as new tweets are added.

You can manage individual Twitter followers as well. You can follow, unfollow, direct message, reply, or add a follower to a Twitter list. You can also report spammers with one click.

You can also use HootSuite to schedule tweets. This comes in handy for posting messages while you are traveling or in a meeting—or just so you won't forget.

You can also invite your teammates to co-manage accounts with you. You can have several people monitoring one account and responding to comments and feedback. This is particularly helpful for organizations and larger brands.

You can add multiple Twitter accounts, Facebook accounts and pages (I have five). HootSuite is adding more all the time. The only glaring omission is Google+ but that should be coming soon.

Analyzing. I use a variety of tools to analyze my social media performance. Both Buffer and HootSuite offer built-in analytical tools. However, I am only using Buffer at the moment. It tells me exactly how many clicks and retweets each tweet generated.

In addition, I use these two tools:

TweetCounter. I use this to monitor the growth in my Twitter follower count.
Tweet Grader. I use this to analyze my Twitter effectiveness.
As social media have become mainstream, the tools have continued to improve. Don't think that what you are using today will be state-of-the-art a year from now—or even three months from now. Keep an open mind and continue to experiment. If you are using the right tools, you can build your platform and still find the time to create great content.
Question: What software tools are you using to manage your social media accounts? What do you like about your tools? You can leave a comment by
clicking here
.