One of my primary sources of information about the book publishing industry is Publishers Lunch Deluxe. It is published every workday by PublishersMarketplace as part of its premium membership service. If you are an author, agent, or publisher, it is must reading.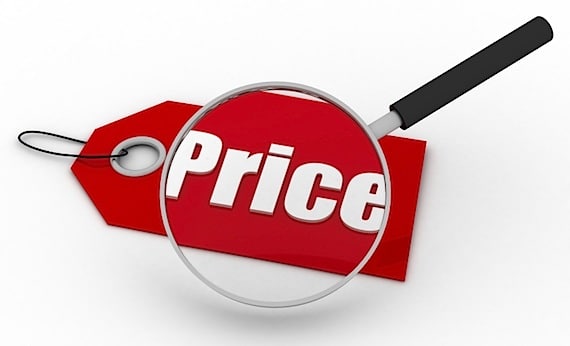 Photo courtesy of ©iStockphoto.com/alexsl
Last week the New York Times published "E-Book Price Increase May Stir Readers' Passions." Michael Cader, the editor of Publishers Lunch Deluxe, took issue with the article, noting that "some people will automatically take it seriously, despite the anecdotal reporting and absence of any data." He then exhorted,
[P]ublishing people who care about these pricing discussions need to get in the online forums and start issuing press releases and find other ways to address readers honestly about price. The price landscape, and shift to an agency model, is honestly baffling to most people and there are a lot of price myths out there.
In that spirit, I have taken eight of his "talking points" and provided my commentary.
The eBook price of $9.99 was never the top price. In our own monitoring of Amazon's Kindle products, we have seen that 30% of them are priced above $9.99. (Kobo's research confirms this.) The bestseller lists regularly include commercial titles above the $9.99 price point. People are buying these eBooks. I have conducted a limited test myself on my own eBooks. Granted, they are highly specialized and my audience is limited. Nevertheless, I price-tested them at $9.99 and $19.97 and saw no difference in demand.
Surveys show many people will pay more than $9.99 for eBooks. As demonstrated by their own behavior, many people are already paying more than $9.99. Some of those surveyed say they will wait for prices to go down, just as they do now while waiting for a hardcover book to be released in paperback. However, I have argued for years that people don't buy a price point; they buy a solution (non-fiction) or entertainment (fiction). As long as the price is within a range of reason, it is a non-issue. Those in the industry make more of this than is warranted.
Brand new eBooks sold at $9.99 are almost always sold at a loss by the e-tailer. As Publishers Lunch Deluxe said, "When a company with a $50 billion market cap [Amazon] can sell selected product at a loss and still make their biggest profits ever, you have to wonder about the bargain." As publishers, Amazon is not our only customer. We want to ensure a more level playing field, so that smaller and local retailers have a fighting chance. We also want to ensure that our customers have a wide range of real bookstores and online eBookstores to choose from.
The promise of cheap eBooks was made by companies who don't have to produce the content. Amazon arrived at the $9.99 price point as a way for readers to justify their purchase of a Kindle. Sony followed suit to match Amazon. Then Wal-mart, Target, and others offered the physical editions of bestsellers through their online stores during the last holiday selling season. None of these companies has to acquire, develop, or package the content. None of them has to pay royalty advances to authors or invest in physical inventory or accounts receivable. These are not trivial investments, I assure you.
People who can afford to buy an eReader can afford the proposed eBook prices. Whenever the owner of a $300 product says they "can't afford" to pay $3.00 to $5.00 more for something, what they really mean is "I really prefer not to pay more." In fact, they would probably prefer to pay nothing. As a consumer, I agree. The problem is that I, as a publisher, can't find authors who will write for nothing. Neither can I find employees who will work for free. One of the thing I learned about consumer research a long time ago is that there is a fundamental difference between what people say they prefer and what they actually do. Too many publishers and booksellers are responding to consumer preferences rather than consumer behavior. In the process, they are leaving money on the table.
Publishers are actually lowering their eBook prices. In reporting on eBook prices, many recent stories assert that publishers are raising prices. This is baloney. Contrary to this, all the publishers I know are lowering their retail ebook prices by 20–50 percent compared to the retail price of the physical book. Publishers understand that it costs less to deliver an eBook than a physical book. However, the cost is not zero, as some would suggest. Publishers have costs to recoup—acquisition, royalty, editorial development, formatting, marketing, and even digital delivery. We are charged by our shareholders to make a profit. While we can sell these books at less than the price we charge for physical books, we have a difficult time make a $9.99 business model work.
The new "price ceiling" is going to be $12.99 more often than not. How do I know this? From talking with other publishers. This point is being lost, inside and outside the publishing industry, since no one is supposed to talk about their Apple deals in too much detail. But the fact is, the price differential is far less substantial that the press would like you to believe. I don't know of a single publisher who is planning to charge the same amount for eBooks as they charge for physical books. As I stated above, most have either reduced—or plan to reduce—their eBook prices by 20–50%.
The biggest obstacle for eBooks is still the price of the device. Honestly, I never hear anyone complaining about the price of eBooks. I hear lots and lots of people complaining about the price of eBook readers. This is the biggest barrier to the digital revolution. I have said from the beginning that Amazon should follow the razor blade model of marketing: give away the razor and charge for the blades. Granted an eBook reader costs more to produce than a razor. But I believe they should still sell the Kindle dirt cheap, even if they have to take a loss, and then sell the books at a profit. Make it easy for people to get started and then let them experience the convenience of eBooks.
Obviously, I am writing from the perspective of a publisher. I am not averse to change, as I have demonstrated repeatedly. I know the market is shifting. I believe digital publishing will change forever the way that we do business. However, that does not mean we have to "give away the farm"—or our content.
I am still a firm believer that people will pay for compelling content, provided big retailers don't devalue it by artificially lowering the price to serve their own strategic interests at the expense of everyone else in the supply chain.
Note: After I wrote this, I discovered that Mike Shatzkin also wrote a post, based on the Publishers Lunch Deluxe article. He offers a different perspective, but well worth reading.
Question: If you were a publisher, how would you price your content and why?