Last week marked the publication of Sometimes You Win, Sometimes You Learn by my good friend, John Maxwell. I recently had the opportunity to interview him about his book. In a moment, I'll tell you how to get a free copy.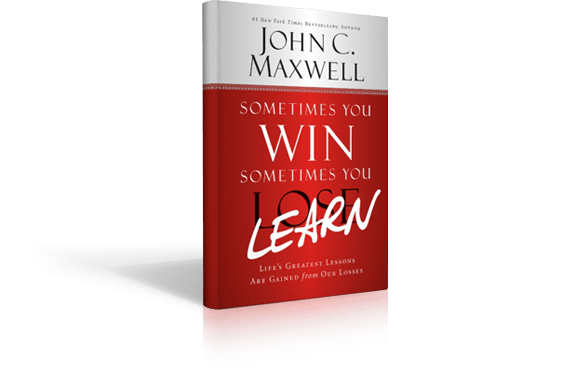 John has been my friend and mentor since I first started working with him in 1998. He had just finished writing The 21 Irrefutable Laws of Leadership. I was the VP of Marketing at Thomas Nelson and and part of the team that helped get the book on the new York Times bestsellers list. It was the first of many for John.

The title of this book, Sometimes You Win, Sometimes You Learn, is, obviously, a play on the old phrase "Sometimes you win, sometimes you lose." Why did you give it that title?

Well, I definitely hate to lose. I've always been competitive.
Playing basketball as a kid, monitoring stats for my companies—I always want to win. But everyone loses. The question is, what do you do with that fact? "Sometimes you win, sometimes you lose" implies that you just need to accept losing.
I didn't like that attitude because it doesn't help a person improve. So if you can't eliminate loss, how do you make it productive either? You learn from it. I believe it's the only way to turn losses around and make them work for you.
You talk in the book about our need to learn from our mistakes. What is a major mistake you've made, and what did you learn from it?
I actually tell this story in the book: Back in early 2009, after I spoke at my friend Chris Hodges' church, a member offered me a gift: a handgun. I really am not a gun person, but I accepted his kind gesture and put the gun in my briefcase. I had flown to the event in a private plane, so there was no problem making the trip back home with the gun.
The problem came about a week later, when I went to the airport to fly commercial to my next speaking engagement. As the briefcase traveled down the conveyer belt in the security line, I suddenly realized—the gun was still in there! I had never taken it out after getting home.
At about the same moment, the TSA agent saw the gun on the x-ray. In spite of the fact that he knew me, of course he had to follow protocol. I was arrested, handcuffed and fingerprinted, and had my mug shot taken. The incident was reported in our local paper and quickly went national.
Even though eventually I was found to have done it unintentionally and the arrest was expunged from my record, I had the opportunity to do a lot of learning from that experience. The main thing I learned was that we are all one small step away from "stupid." When I tell the story, people have a hard time believing anyone could be that stupid. The reality is, someone could. I'm just glad my stupidity didn't cause more harm than it did.
You call reality the foundation of learning. Can you explain why you believe that's true?
Well, my experience with the gun played out in front of the world, but many of our mistakes are more private. And it's easier to deny or ignore them. However, pretending you didn't mess up robs you of the opportunity to learn. I think acknowledging the reality of our situation is the very first thing that needs to happen. Only after that do we have an opportunity to grow from the mistake.
Sometimes it's really hard to face the reality of a big mistake. It's so tempting to try to cover it up. But covering up rarely works, and then you have an even bigger problem on your hands. I would much rather confess that I'm an idiot and choose to move forward and grow from the experience.
You tell a story in the book about a woman who came up to you and said she'd been reading your books and listening to your teaching for eight years, and that you'd given her the gift of hope. That really meant a lot to you. Why is that important to you?
I really believe that hope is the difference-maker. Whenever you lose, it's hope that gives you the desire to overcome the loss. Hope for something better is the catalyst for wanting to learn. I'm so happy to hear that someone has received hope from my work because it means I'm giving them something vital that they need to grow and change.
Hope plays a big part in Sometimes You Win, Sometimes You Learn. With this book, I've tried to help readers change the way they look at losses, cultivate qualities that help them respond to them, and develop the ability to learn from them.
Question: What have you learned from a big loss? Share your answer on Facebook, Twitter, or LinkedIn.