Today at Thomas Nelson we promoted Mark Schoenwald, our President and Chief Operating Officer, to the position of President and Chief Executive Officer. Effective immediately, I am stepping out of active management of the company, and turning over the reins to Mark. However, I will continue to serve as Chairman of the Board.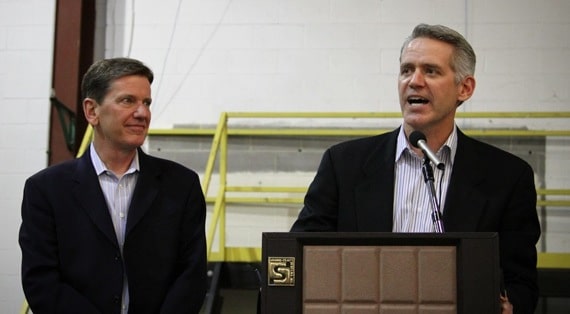 Michael Hyatt, Chairman, and Mark Schoenwald, the new CEO of Thomas Nelson
I hired Mark in 2005 to be our Chief Sales Officer. I promoted him to President and Chief Operating Officer in 2009. I have watched him grow and develop over the years. He is an outstanding executive in every way, yet humble and committed to our company's Christian mission. He was my first choice as a successor, and I know he will do a terrific job.
The reason for this transition is that I want to spend more time externally focused: writing, speaking, and pursuing other business interests. This is not a big surprise to my family or closest friends—perhaps not even to you. I love the creative life, and I was finding it increasingly difficult to give expression to my gifts while running a company the size of Thomas Nelson.
I feel that this is the perfect time to make this transition. We finished our fiscal year on March 31st with very strong momentum. We currently have several books on the bestseller lists, including Heaven Is for Real, which has been #1 on the New York Times list for 10 straight weeks. The company is healthy, vibrant, and poised for growth. We have a talented and proven successor in Mark, who can lead the company forward.
It is hard for me to believe that I have been the company's CEO for nearly six years. The time has flown by. One of my closest friends asked, "What do you think were your biggest accomplishments during this time?" I have been thinking about that now for a few weeks. I would point to five:
Taking the company private and getting a great price for our shareholders.
Creating a mission-focused, values-driven culture.
Steering the company successfully through the Great Recession.
Maintaining the company's market share in a very turbulent industry.
Launching the company into the world of e-books and social media.
I certainly didn't do these things alone. It took my executive leadership team, including Mark; Stuart Bitting, my chief financial officer; Mary Graham, my chief live events officer; Lindsey Nobles, my director of corporate communications; and Vicki Parr, my executive assistant. In fact, it took every employee at Thomas Nelson.
In my new role, I will still be very connected to the company, remaining on the board and presiding at our meetings. I will also serve as an advisor to Mark and his team. I will represent the company at the various conferences I attend and will continue to scout for new authors and speakers. I will be involved in a handful of key author relationships, as Mark deems appropriate.
One change I am really excited about is officing out of my home. This has been a dream of mine for years. (Did I mention that I love hanging out with my wife, Gail?) I also think it is important that the former CEO get out of the new CEO's way, so that there is no confusion about who is in charge.
If life is a story (and it is), then I have just finished an important chapter in my life. But the book is not over. There are more adventures in the pages ahead. I can't wait to see where the story goes next!
Note: here is some additional news coverage that came out since I first posted this:
Question: Is there anything I didn't cover? You can leave a comment by
clicking here
.