Three years ago, we consolidated our twenty-one publishing imprints under one umbrella brand: "Thomas Nelson." We believed then (as we believe now) so many imprints only served to dilute our brand, creating needless complexity and infrastructure for everyone.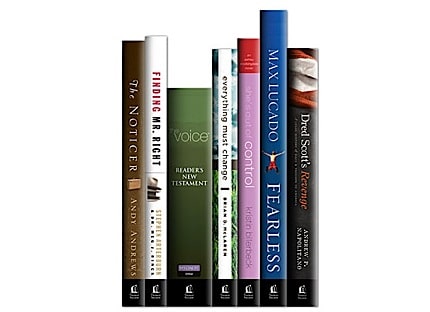 At the time, we decided that we would go with our singular house logo on the spine. Believing that "less is more," we took a page out of Apple and Nike's playbook. No text. Not even a ® symbol to indicate a registered trademark. Just the house. Nothing more.
However, about six weeks ago, Matt Baugher, one of our publishers, suggested a little reality check. "But we are not Apple or Nike," he protested. "We don't have millions of dollars to spend on driving our logo into the forefront of consumer consciousness. Besides, we're not really a consumer brand any way."
Simultaneous with this, one of our other executives (I forget who) suggested that we should accept the fact that the spine of the book is the primary facing in most bookstores and design it first. Brilliant! I thought. Of course that is true. Maybe there's a way we can make better use of the spine.
So, we kicked around a few ideas and decided to have Gabe Wicks, our VP of Design and MultiMedia, and Chris Ward, one of our ace designers, mock up three possibilities. Rather than let ourselves kick it around in the ivory tower here on Nelson Way, we decided to use "the wisdom of the crowd" to help us decide which one is the best option.
Our goal is three-fold:
To make the Thomas Nelson brand more recognizable
To provide a consistent but non-intrusive look for our brand. (We recognize that the author and the title are the primary brands.)
To better utilize the spine to make our books stand out.
So please go take a look at what we've created and cast your vote. If you are an industry professional, try to respond as a consumer.
Your vote really will count and influence how our books look on the shelves of your favorite bookseller in the years to come. Once we get the results in, I will update this post.
Question: Are there any comments you would like to make about the overall concept or our method of surveying?