As a full-time writer, I take my tools seriously. With a blog, a podcast, speeches, and a new book in the works, I have to maximize my productivity. I have a daily word count goal, and I can't afford to let the tools get in the way.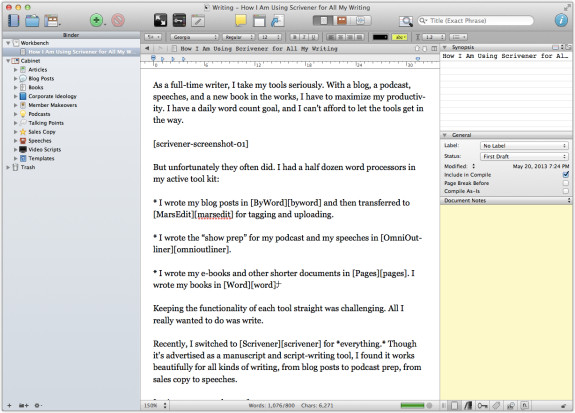 But, unfortunately, they often do. Until a month ago, I had nearly half a dozen word processors in my active tool kit:
I wrote the "show prep" for my podcast and my speeches in OmniOutliner.
Keeping the functionality of each tool straight was challenging. All I really wanted to do—and needed to do—was write.
Recently, I switched to Scrivener for everything. Though it's advertised as a manuscript and script-writing tool, I found it works beautifully for all kinds of writing, from blog posts to podcast prep, from sales copy to speeches.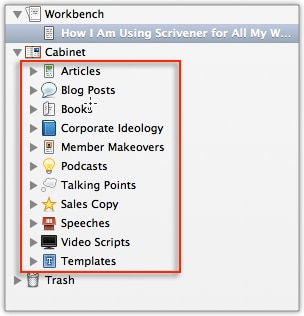 I now begin every piece of content—no matter what it is—with this tool. It has simplified my life and enabled me to focus on the most important aspect of my job—creating new content. I am more productive than ever.
If you are a writer (or want to be), you might consider switching to Scrivener, too. Here are my top five reasons:
It provides a hierarchical file structure. Some people love to brainstorm with a mind mapping tool of some sort. The company that created Scrivener even offers one called Scapple. While I have used mind mapping from time to time, it is not my go-to method.

I naturally think in outlines and lists. I need a tool that shows hierarchy, so the ideas and the sub ideas are readily apparent. I loved OmniOutliner for this reason. However, it was a single-purpose tool. I found it difficult to get content in and out of it.

Scrivener solves this problem, because it provides just enough outlining functionality to keep me organized without becoming overpowering. Most of my workflow is now within this one tool.

It has a distraction-free composition mode. When I am writing, I need to focus on the words and nothing else. I have tried OmmWriter, iAWriter, Byword, Ulysses III, and a dozen others. (Let's be honest, trying new apps is a lot more fun than actually writing!)

Scrivener's composition mode is the best, distraction-free writing environment I have ever used. Period. It gives me a single column of text—and nothing else:

If I mouse over the bottom of the screen, it gives me a ribbon of useful information (e.g., word count) and tools I might want to access in this mode:

This, plus a good musical playlist, and I am in business.

It was created with writers in mind. So many other document processors were written to accommodate as many writing needs as possible. Scrivener was written specifically for writers. Here is a partial list of features I find helpful:

A binder to keep related documents together and organized.

A variety of helpful views: document, cork board, and outline.

Statistic tools, like word counts, and the ability to set and track word count goals. (Did I mention I am goal-oriented?)

Ability to split the screen, so I can, for example, have footnotes, in the bottom half of the screen.

An inspector window where I can keep notes, track status, link to articles, or even create custom meta data:

Take "snapshots" of documents, so I can rollback easily to previous versions.

Other tools have some of these features. None of them are that revolutionary in themselves. But it is the presence of all of them together that makes me more productive.

It supports multi-markdown. I have spent my entire career in book publishing. As a result, I love typography and book design. The only problem is I can spend too much time formatting my content rather than creating it.

This is where multi-markdown has been a huge help to me. It is a method of writing that requires minimal formatting. For example, if I want to create a bulleted list, I just precede the item with an asterisk. If I want to create a numbered list, I precede it with a number. What could be easier?

Unlike modern word processors, multi-markdown separates the content-creation phase from the formatting phase. Best of all, Scrivener understands multi-markdown and can translate it into whatever final output you want.

It allows for a variety of export options. This is where Scrivener shines. It has the ability to export to nearly any format you can imagine.

For example, I typically export my blog posts to HTML. I export my podcast show prep to multi-markdown, so my producer can create the show notes. I export my books to Word, so I can collaborate with my co-author or submit to my editor. I can even export directly to PDF, Kindle, ePub, or iBooks Author. The possibilities are seemingly endless.
By the way, last week I tweeted that I was using Scrivener for all my writing. Several of my followers asked why I was no longer using Evernote.
Actually, I am still using it—as much as ever. It is my digital brain. It is one of my three core productivity tools (the others being Nozbe and Google Calendar).
However, I am no longer using Evernote for writing. It's not intended to be a word processor, and its writing functionality is minimal. If it works for you, great. I am now using Scrivener for this.
Honestly, I still feel I am a beginner when it comes to Scrivener. There is so much to learn. But that is not to say it is complex. You can become productive almost immediately, especially if you set it up the right way. (I'll write more about that in a future post.)
If you haven't tried Scrivener, you can download the trial version (also available for Windows) and give it a whirl.
Question: What are your go-to writing tools and why? Share your answer on Facebook, Twitter, or LinkedIn.