As a full-time writer, I take my tools seriously. With a blog, a podcast, speeches, and a new book in the works, I have to maximize my productivity. I have a daily word count goal, and I can't afford to let the tools get in the way.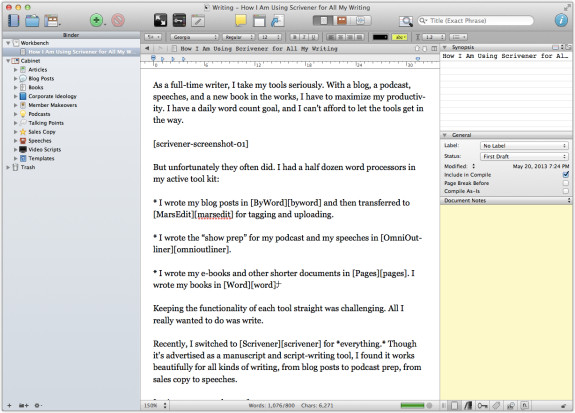 But, unfortunately, they often do. Until a month ago, I had nearly half a dozen word processors in my active tool kit:
I wrote the "show prep" for my podcast and my speeches in OmniOutliner.
Keeping the functionality of each tool straight was challenging. All I really wanted to do—and needed to do—was write.
Recently, I switched to Scrivener for everything. Though it's advertised as a manuscript and script-writing tool, I found it works beautifully for all kinds of writing, from blog posts to podcast prep, from sales copy to speeches.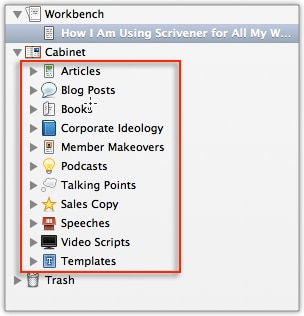 I now begin every piece of content—no matter what it is—with this tool. It has simplified my life and enabled me to focus on the most important aspect of my job—creating new content. I am more productive than ever.
If you are a writer (or want to be), you might consider switching to Scrivener, too. Here are my top five reasons:
By the way, last week I tweeted that I was using Scrivener for all my writing. Several of my followers asked why I was no longer using Evernote.
Actually, I am still using it—as much as ever. It is my digital brain. It is one of my three core productivity tools (the others being Nozbe and Google Calendar).
However, I am no longer using Evernote for writing. It's not intended to be a word processor, and its writing functionality is minimal. If it works for you, great. I am now using Scrivener for this.
Honestly, I still feel I am a beginner when it comes to Scrivener. There is so much to learn. But that is not to say it is complex. You can become productive almost immediately, especially if you set it up the right way. (I'll write more about that in a future post.)
If you haven't tried Scrivener, you can download the trial version (also available for Windows) and give it a whirl. If you decide to buy it, you can get a 20 percent discount with my affiliate code: MICHAELHYATT.
Question: What are your go-to writing tools and why?