Two years ago, I ran the Country Music Half Marathon for the first time. Sixty-five of my colleagues from Thomas Nelson ran with me (about 10% of our workforce at the time). It was such a great experience that we did it again in 2007. Last year, we doubled the number of participants—135 finished the race (about 20% of our workforce).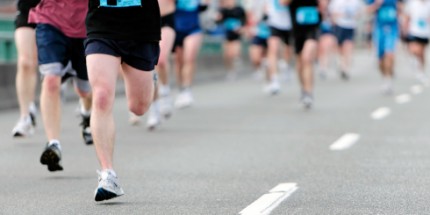 Well, we want to do it again this year. My goal is for 150 of our Thomas Nelson employees to run the half marathon this year. This represents about 25% of our post lay-off workforce. I don't know about you, but after the holidays, I am feeling more motivated than ever to get myself in shape.The Country Music Half Marathon is scheduled for April 25, 2009, here in Nashville, Tennessee. If you have never participated, this is an amazing race. It features many of Nashville's best live bands on 28 stages along the 13.1-mile course. The musically-themed road race is expected to attract 35,000 participants. You can't imagine the energy and excitement that many walkers and runners can generate.
Why run a half marathon? Here are my top five reasons, gleaned from two years of personal experience:
You will lose weight. We had people in our workforce who lost over 50 pounds.
You will feel better than you've likely ever felt in your life.
It will make you more energetic and productive at work—and when you get home from work.
You will be able to apply what you learn from running (or walking) to other areas of life.
It will give you confidence to tackle other significant life goals.
It short, it will change your life. If you don't believe me, read the testimonials form last year.
If you are a Thomas Nelson employee, I have an offer you can't refuse. First, like last year, go ahead and register for the race. Next, notify Lindsey Nobles if you plan to run the race. She is our official team coordinator.
Here's the best part. If you complete the half marathon or full marathon—even if you only walk—you will receive the following:
An official Team Thomas Nelson t-shirt. We will all wear these the day of the race.
Reimbursement for your registration fee.
Official public recognition at the first All Employee Meeting following the race.
This year we are also partnering with New Hope Academy in Franklin, Tennessee. I am especially excited about this part of the program. We want to help them raise $300,000 to enable low-income children the opportunity to get an exceptional, Christian education. In return, Powered by Hope, the fund-raising arm of New Hope Academy, will provide personalized training for all of our fund-raising participants.
For now, the important thing is to register for the Half Marathon and start training. The moment you commit, is the moment the change begins. Do it now!
If you have additional questions, I have a detailed FAQ that you can read here.
Question: So will you join us?