If there is one thing great leaders know, it is how to lead themselves. This is especially important in turbulent times. If you can't lead yourself—and keep your own batteries charged—you can't lead others.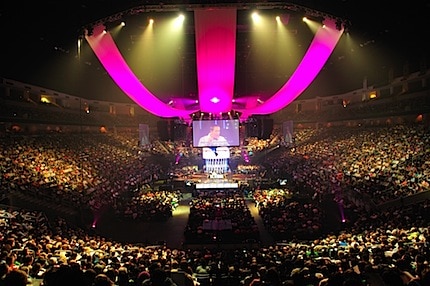 That's why I am attending The Catalyst Conference in Atlanta, Georgia, October 7–9. In a moment, I'll tell you how you can attend too and get an exclusive 28% discount—but only for the next 48 hours.
The Catalyst Conference is now in its tenth year. I have attended twice and loved it both times. Not only am I attending this year, but I am taking several of my own team members with me.
Here are three reasons you should join us in Atlanta:
You will get to hear from some of the best leaders in the world. These include Andy Stanley, Chuck Swindoll, Louie Giglio, Malcolm Gladwell, Dave Ramsey, Tony Dungy, Priscilla Shirer, Rob Bell, Francis Chan, Matt Chandler, Jessica Jackley, Josh Hamilton, and many others.
You will experience a fully immersive, learning and creative experience. It will leave you thinking bigger than you ever thought possible and better equipped to take on the the challenges you are facing in your own organization.
You will rub shoulders and interact with 12,000 next-generation leaders. I don't know of any other conference that attracts so many bright and committed leaders in one place. You will meet people that will make a difference in your leadership journey.
In short, The Catalyst Conference will be three days of non-stop "leadership adrenaline."
As I mentioned, Catalyst has agreed to offer a special registration price of $229 to my readers. This is a 28% discount off the regular ticket price of $319! However, you must register within the next 48 hours to get this special pricing.
To take advantage of this exclusive offer, call (888) 334-6569 to speak with the Catalyst Concierge team or register on The Catalyst web site and use Rate Code "MHB." 
Again, you must register before Thursday, August 27th to receive this special rate. I look forward to seeing you there!
Questions: Have you ever attended The Catalyst Conference? How was your experience?
Note: this is a sponsored post. In accordance with the new FTC guidelines, you can read my Disclosure of Material Connection here.