A few weeks ago, while attending the Catalyst Conference, I had the opportunity to have breakfast with Dan Cathy, President and COO of Chick-fil-A, and Mark Miller, VP of Training and Development for Chick-fil-A. I experienced first-hand their passion for leadership and for enriching the lives of the people in the the communities where their stores are located.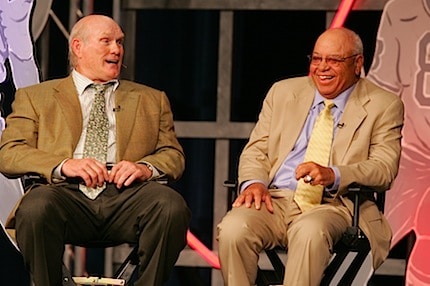 Now they are partnering with leadership development company GIANT Impact to bring their passion to a wider audience in the form of the Chick-fil-A Leadercast, a one-day leadership event that will take place in Atlanta and will be broadcast to 500 host locations throughout the country via satellite or internet downlink. (In a moment, I will tell you how your church can become a host site.) This event will be held on May 7, 2010. They are expecting nearly 70,000 attendees, between the live site in Atlanta and the rest of North America.
This is the 10th anniversary of the event, which was initially founded by Thomas Nelson author John Maxwell in 2000 as the "Maximum Impact Simulcast." What started out as a half-day, classroom style event with John has since become a full-day, experiential conference featuring many renowned speakers. This year's lineup includes:
Jim Collins: Author of Good to Great, How the Mighty Fall, and co-author of Built to Last
John C. Maxwell: Leadership expert and best-selling author of The 21 Irrefutable Laws of Leadership and Put Your Dream to the Test
Steve Uzzell: Award-winning corporate photographer and former staff member of National Geographic
Mark Sanborn: Best-selling author of The Fred Factor and popular corporate speaker
Connie Podesta: Expert in the psychology of human behavior and leadership development
Jim Goodnight: CEO of SAS Institute, Inc.
Ed Bastian: President of Delta Air Lines
Ben Carson: Neurosurgeon and Professor of Pediatric Neurosurgery at the Johns Hopkins School of Medicine, recipient of the Presidential Medal of Freedom
What makes this event different? Three things:
The diversity and experience of the speakers
Leadership content that deals with both the head and the heart
Experiential elements including humor, videos, book signings (at the in-person location), audience interaction, creative programming
You can read some of the testimonials of previous attendees here.
The Chick-fil-A Leadercast is currently looking for host churches to participate in this event. If you are a pastor, church staff member, or lay leader, this is a great way for your church to reach the business leaders in your community. Specifically, it will enable you to:
Invite people into your church that might otherwise never darken the door
Build relationships that will create opportunities for significant, spiritual conversations after the event
Become the church known for speaking to the needs of the local business community
Offer relevant leadership training for business leaders in your city
Generate alternative revenue
You can find out more about becoming a host site by clicking here. If you mention that you read about this event on my blog, Chick-fil-A Leadercast will give you 10 free tickets when you register as a host site.
If you want to attend the event, you can find out more by clicking here. Trust me, these kinds of events are even better when you can bring your leadership team with you.
I look forward to seeing you there!
Have you ever attended a "Maximum Impact Simulcast" like this in the past? What was your experience?