A few nights ago, I sat down with the intention to write a blog post. I had been mulling a specific idea over for several days. I thought it was a slam dunk. I should be done in 30 minutes, I thought, 45 minutes—max.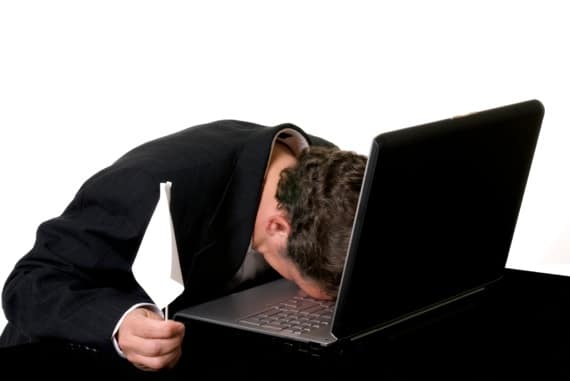 Photo courtesy of ©iStockphoto.com/Captainflash
Not so much.
The first paragraph came quickly. But then I got stuck. I wrote another one, didn't like it, and deleted it. I spiraled through that same loop ten times. Nothing seemed to work.
About that time, distraction set in. P.J. O'Rourke described it well when he wrote:
Usually, writers will do anything to avoid writing. For instance, the previous sentence was written at one o'clock this afternoon. It is now a quarter to four. I have spent the past two hours and forty-five minutes sorting my neckties by width, looking up the word "paisly" in three dictionaries, attempting to find the town of that name on The New York Times Atlas of the World map of Scotland, sorting my reference books by width, trying to get the bookcase to stop wobbling by stuffing a matchbook cover under its corner, dialing the telephone number on the matchbook cover to see if I should take computer courses at night, looking at the computer ads in the newspaper and deciding to buy a computer because writing seems to be so difficult on my old Remington, reading an interesting article on sorghum farming in Uruguay that was in the newspaper next to the computer ads, cutting that and other interesting articles out of the newspaper, sorting—by width—all the interesting articles I've cut out of newspapers recently, fastening them neatly together with paper clips and making a very attractive paper clip necklace and bracelet set, which I will present to my girlfriend as soon as she comes home from the three-hour low-impact aerobic workout that I made her go to so I could have some time alone to write."
But distraction wasn't really my problem. At least not initially. I was intent on writing—I just couldn't.
After writing four books and almost one thousand blog posts, I have learned two things about writing:
Sometimes, I just need to park myself in my chair, fire-up my laptop, and force myself to start. Nine times out of ten, this works for me.
When that doesn't work—after a concerted effort—I just need to quit. I have to get up and do something else.
This is all part of the mystery of writing. It's a balancing act, isn't it?
You want to exercise self-discipline and force yourself to write, even when you don't feel like it. But you also have to trust the process and recognize when that won't work. If you are patient—with yourself and with the process—the Muse will eventually speak.
Questions: As a writer, have you learned to trust the process? Is there a time when you got stuck but eventually regained your inspiration? You can leave a comment by
clicking here
.