Last night, my daughter Mary and her husband, Chris, came over. The weather was unseasonably warm, so we sat out on the porch and talked. We reminisced about their wedding among other things. We laughed. We even cried. It was a rich, full time.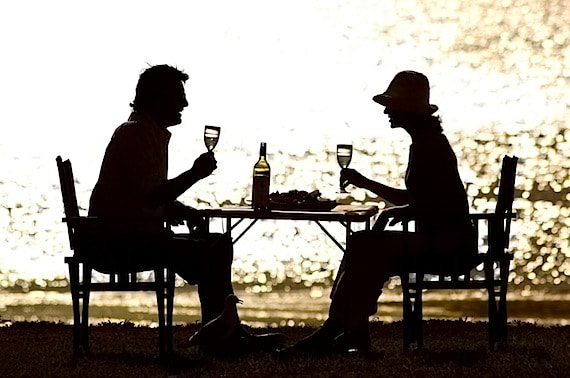 Photo courtesy of ©iStockphoto.com/hypedesk
Before long, I opened a bottle of Kim Crawford Sauvignon Blanc. It's my very favorite white wine, and I was eager to share it with Mary and Chris. They had never had it before. We savored the hints of peach, passion fruit, and, most of all, grapefruit. We delighted in each drop.
After a while, we ordered some pizza. Our conversation lingered over dinner, even as the night grew colder. We eventually got some blankets, but we were reluctant to let go of the moment. I honestly don't remember all that we discussed. It really doesn't matter. I just relished the intimacy and the joy of being with people I love.
My experience was what Eugene O'Kelly calls a perfect moment.
I read O'Kelly's book, Chasing Daylight [affiliate link] , this past weekend on the recommendation of my dear friend (and coach) Dan Meub. It was, as they say, "a quick read." I started it on a flight to Orlando and finished it before I got back. Few books have had such a profound impact on me in such a short time.
O'Kelly was the former CEO of KPMG, one of the largest accounting firms in the world. He had a great life, a wonderful marriage of 27 years, and two adoring daughters. He loved his job, and he loved his golf.
As with most CEOs, his life was very busy. Over the course of a decade, he had managed to have a weekday lunch with his wife just twice. His calendar was booked 18 months in advance. He routinely worked 12-15 hour days. Most of his waking moments were spent thinking about the future.
However, all of that came to screeching halt when suddenly, at age 53, he was diagnosed with late-stage brain cancer. His doctors soberly told him he had maybe three months to live. He quickly came to the conclusion that recovery was impossible. A miracle was unlikely.
Over the next 90 days, he determined that he would die well. In true CEO-fashion, he created goals for himself. He made a list of important relationships he wanted to "unwind." By this he meant that he wanted to bring closure to those relationships and communicate how much each person had meant to him. He also learned to meditate. And, most importantly, he tried to create as many "perfect moments" as he could.
According to O'Kelly, a perfect moment is an experience with others when time stands still. It is a time full of the present, when the past is left behind and the future is set aside. It is a special time of focused attention and heightened awareness. Interruptions and distractions are consciously excluded. Cell phones are off. Hearts are wide open. All that matters is this moment—the people I am with and the conversation we are having now.
I wept silently on the plane as I finished the second half of the book. Maybe it struck a little too close to home. Maybe it was because I realized that these perfect moments are so rare in my own life.
I also was extremely grateful that O'Kelly had taken time to write this imperfect but important book. The time he took to write it was time he, frankly, didn't have. It was a selfless act. But it is a gift to people like me who need a reminder that this moment is all I have.
The phrase "the perfect moment" has now given me an important distinction. Now that I know what it is, I am going to strive to have more of them. I mean honestly, the past and the future are way over-rated. I want to be more present with the people I love.
Question: What "perfect moment" have you experienced recently?