If you've always dreamed of writing a book, I have good news. You're living at the very best moment in history to have the impact your message deserves. But you have your doubts, right?
Maybe you've heard the statistics on how many books get automatically rejected by agents and publishers. Maybe you've already been rejected.
You know you have an important message to share, but let's face it: We pour so much of ourselves into a book that rejection is beyond demoralizing. Besides, publishing is so complex, it feels like its rigged against first-time authors. It's not, if you know how the system works—and how you can work it.
To find out what you can do to get published, sign up for my
Get Published Training Course
. Registration is now open. But move fast. The offer ends next week.
[button href="http://getpublishedcourse.com/join" primary="true" centered="true"]Click to Learn More[/button]
I've been in the publishing business for three, going on four decades. I've worked at every level in the business, including as CEO of one of the largest publishing companies in the world.
I know the industry from the inside out. I've not only seen thousand of book proposals and signed hundreds of bestsellers, I've even written eight books myself—including two that were New York Times bestsellers.
Based on my experience, I know exactly what it takes to get published and succeed in the marketplace. And now you can too because I'm sharing everything I know. My Get Published Training Course features 100 percent market-tested principles, processes, and practical action plans to take your from that book idea you have now to a contract in hand.
Through twenty-one simple audio lessons, plus downloadable guides and ebooks, you'll discover:
Exactly what happens inside publishing houses—and how you might be unknowingly sabotaging you chance of success right now.

The essential mindset for publishing success, plus the six simple steps you can take to develop starting today.

A battle-tested method to stop spinning your wheels and write your book in record time.

The critical actions you need to take to grow your tribe and expand your reach—before and after your book releases.

A detailed and proven process for launching your book for maximum sales.

How to use your book as a lead generator for a larger business, ministry, or movement.

And more. Much more.
My Get Published Training Course moves beyond ideas of what might work and teaches you precisely what does work—and how to do it. There's no reason to feel overwhelmed, confused, and outgunned any longer.
The course is only available for the next week, but you get lifetime access so you can work at your own pace and reference it for future publishing projects. It also comes with a thirty-day money-back guarantee, so there's absolutely no risk.
Plus, if you order it today, July 24, by 11:59 p.m. Pacific, you'll get my Email List Growth Toolkit for free.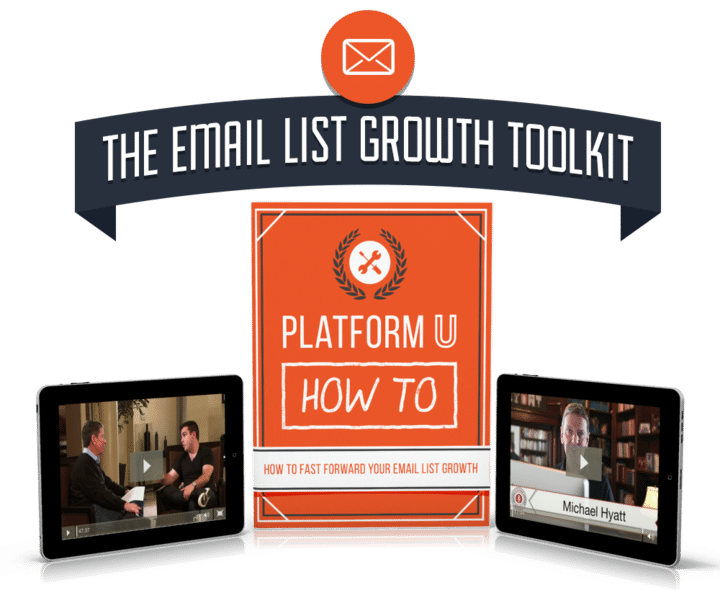 One of the biggest mistakes authors make is not building an email list strategically. It is a critical piece of any successful launch plan or self-publishing venture. My toolkit shows you how to grow your list, grow it right, and grow it fast. But it's only available for those that purchase today.
What would being a published author make possible for you? Could it serve as a catalyst for your career? Help you reach more with your message? Multiply your impact in world? Fulfill a lifelong aspiration?
Whatever your reason, it's finally within your reach.
Register today for my
Get Published Training Course
and get instant access to my
Email List Growth Toolkit
free. Registration is open right now, but it ends next week. Don't miss this opportunity to finally get published!
[button href="http://getpublishedcourse.com/join" primary="true" centered="true"]Click to Register![/button]
Question: Do you have a book in you? What's holding you back? Share your answer on Facebook, Twitter, or LinkedIn.