This Is Your Life™ is my weekly podcast dedicated to intentional leadership. My goal is to help you live with more passion, work with greater focus, and lead with extraordinary influence.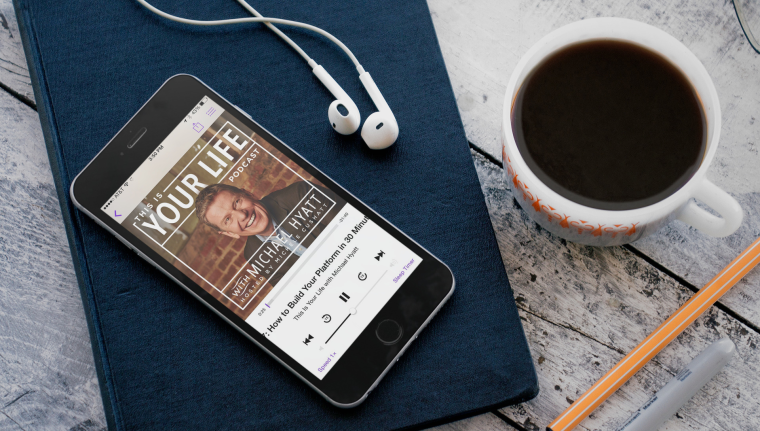 I post the podcast on Monday morning of each week. If you subscribe, you will automatically get every episode for free.
| | |
| --- | --- |
| iTunes | RSS |
I would also suggest that you use a podcast application on your iPhone or Android phone. I use Downcast. Another popular one is Instacast. Both are the same price.
These applications make discovering, subscribing, and listening to podcasts so much easier. The biggest advantage is that you don't have to load iTunes on your computer, subscribe, and then manually sync to your phone. You can do the whole thing from within Downcast. They also automatically update your podcasts every time a new episode is released.
Podcast Archive
Season
Episode
Title
Released
8
13
What to Do with Difficult Clients
09/26/2016
8
12
Do You Really Want Work-Life Balance?
09/12/2016
8
11
How to Quickly Create Killer Blog Posts
09/05/2016
8
10
8 Secrets to Escape the Overwhelm
08/29/2016
8
9
Happy People Are More Magnetic
08/22/2016
8
8
How to Lead in the Face of Criticism
08/15/2016
Encore
Getting the Most Out of Evernote
08/08/2016
8
7
Do You Want to Wow Your Customers?
08/01/2016
8
6
So You're Crazy-Busy
07/25/2016
8
5
How to Conquer Your Email Inbox
07/18/2016
8
4
How to Be a Storm-Proof Leader
07/11/2016
8
3
How to Vacation Like a Pro
06/27/2016
8
2
If You Want to Be Successful, Be Less Accessible
06/20/2016
8
1
The Mindset That Will Limit Your Future
06/13/2016
Encore
Setting Up Camp in the Discomfort Zone
06/06/2016
Encore
How to Lead Transformational Conversations
05/30/2016
Encore
The One Way to Guarantee You Won't Succeed
05/23/2016
Encore
The Disciplined Pursuit of Less
05/16/2016
7
13
10 Reasons Every Leader Needs a Blog
05/09/2016
7
12
My Advice to New Bloggers
05/02/2016
7
11
5 Ways to Build Trust with Your Tribe
04/25/2016
7
10
How To Frustrate Those You Lead
04/18/2016
7
9
My Top 10 Productivity Hacks
04/11/2016
7
8
Leadership at the Symphony
04/04/2016
7
7
6 Strategies to Become a Better Conversationalist
03/28/2016
7
6
Achieve More By Sleeping More
03/21/2016
7
5
Advice to New CEOs
03/14/2016
7
4
5 Strategies for Building New Habits
03/07/2016
7
3
Why You Need a Life Plan Now
02/29/2016
7
2
How to Discern Your Calling
02/22/2016
7
1
How Vision Affects Productivity
02/15/2016
6
13
How To Win With Your First Book
02/01/2016
6
12
Blow Up Your Blog!
01/25/2016
6
11
How to Lead Your Leader
01/18/2016
6
10
How to Delegate Without a Staff
01/11/2016
6
9
How to Become a Morning Person
01/04/2016
6
8
How to Boost Your Energy
12/28/2015
6
7
How to Become a Big Thinker
12/21/2015
6
6
How to Finally Achieve Your Dream
12/14/2015
6
5
Want More Twitter Followers?
12/07/2015
6
4
How to Say No Without Feeling Guilty
11/30/2015
6
3
Change Your Story, Change Your Life
11/23/2015
6
2
Your Guide to Greatness
11/16/2015
6
1
The Transformative Power of Suffering
11/09/2015
5
13
Trash Your To-Do List
11/02/2015
5
12
4 Easy Steps to Affair-Proof Your Marriage
10/26/2015
5
11
The Treasure in the Trials
10/21/2015
5
10
How to Safeguard Your Most Important Asset
10/14/2015
5
9
Banish the Guilt About Making Money
10/07/2015
5
8
Why It's Time for You to Stop Trying
09/30/2015
5
7
The Easy Way to Avoid a Hiring Fail
09/23/2015
5
6
The Danger in Dirty Words
09/16/2015
5
5
How to Finally Achieve Work-Life Balance
09/09/2015
5
4
Permission to Turn the Page
09/02/2015
5
3
How to Wreck Your Future
08/26/2015
5
2
Nature's Calling
08/19/2015
5
1
Escape the Overwhelm
08/12/2015
4
13
How Can I Wow My Clients And Set Boundaries?
07/29/2015
4
12
What if the Barriers Were Only in Your Head?
07/22/2015
4
11
Escape Perfectionism Once and for All
07/15/2015
4
10
The Hidden Dangers of Sitting
07/08/2015
4
9
Don't Bite That Apple
07/01/2015
4
8
Goal Setting for Beginners
06/24/2015
4
7
How to Achieve More by Sleeping More
06/17/2015
4
6
Watch Your Mouth
06/10/2015
4
5
Getting the Most Out of Evernote
06/03/2015
4
4
The Secret Power of Smiling
05/27/2015
4
3
Why Learning to Lead Means Learning to Follow
05/20/2015
4
2
Setting Up Camp in the Discomfort Zone
05/13/2015
4
1
The One Way to Guarantee You Won't Succeed
05/06/2015
3
13
Why Is Retirement a Terrible Idea?
04/08/2015
3
12
The Disciplined Pursuit of Less
04/01/2015
3
11
How to Lead Transformational Conversations
03/25/2015
3
10
The Real Difference Between the Wise and the Foolish
03/18/2015
3
9
Making Peace with an Unexpected Life
03/11/2015
3
8
How to Write a Blog Post in 70 Minutes or Less
03/04/2015
3
7
How to Build Your Platform in 30 Minutes a Day
02/25/2015
3
6
How to Become Your Spouse's Best Friend
02/18/2015
3
5
The Top-10 Characteristics of Lousy Leaders
02/11/2015
3
4
Don't Quit Before the Whistle Blows
02/04/2015
3
3
The Right Way to Fire the Wrong Person
01/28/2015
3
2
The Right Way to Hire the Right People
01/21/2015
3
1
How You Can Better Control Your Time
01/14/2015
2
13
How Do You Decide What Content to Give Away for Free (and 12 Other Listener Questions)
12/31/2014
2
12
My Craziest, Most Memorable Christmas Stories
12/24/2014
2
11
The 5 Biggest Hiring Mistakes Leaders Make
12/17/2014
2
10
10 Biggest Mistakes People Make in Setting Goals (and How to Fix Them)
12/10/2014
2
9
The 3 Forces That Shape Character
12/03/2014
2
7
How Book Publishing Has Changed and What it Means for You
11/26/2014
2
6
What to Do When You Are Forced to Wait
11/19/2014
2
5
How to Confront Someone Who Offends You (Or Others) Without Ruining Your Relationship
11/12/2014
2
4
My Top Ten Favorite Books of All Time
11/05/2014
2
3
Grow Your Social Media Following with These 10 Different Kinds of Posts
10/29/2014
2
2
Why Accountability Is Vital for Leaders Who Want to Make a Big Difference
10/22/2014
2
1
What If You Could Take a One-Month Sabbatical?
10/15/2014
1
13
How Do I Transition Out of My Corporate Job to Work for Myself? (and Other Listener Questions)
10/08/2014
1
12
Are You a Leader? 12 Ways to Know for Sure
10/01/2014
1
11
The 5 Elements of a Powerful, Personal Brand
09/24/2014
1
10
How to Lead from the Heart—4 Practices
09/10/2014
1
9
Slay Your Dragons Before Breakfast So They Don't Eat Your Lunch
09/03/2014
1
8
Twenty Questions to Ask Other Leaders
08/27/2014
1
7
Why Doing Less Is the Best Way to Do More
08/20/2014
1
6
The Top 10 Mistakes Bloggers Make
08/13/2014
1
5
How to Create Team Alignment That Drives Results
08/06/2014
1
4
Seven Strategies for Building Your Email List
07/30/2014
1
3
Three Questions Every Leader Must Answer to Avoid the Drift
07/23/2014
1
2
The 6 Rules for More Effective Slide Presentations
07/16/2014
1
1
The 5 Benefits of Collaboration
07/09/2014
0
100
The Next 100 Episodes and How I Plan to Change Things Up
06/25/2014
0
99
Are You Investing Your Best Resources in the Wrong People?
06/18/2014
0
98
How to Regain Interior Margin Through the Practice of Stillness
06/11/2014
0
97
How to Do More of What You Love (And Less of What You Don't)
06/04/2014
0
96
What Leaders Need Even More Than the Right Answers
05/28/2014
0
95
How to Make $150,000 This Year from Your Platform
05/21/2014
0
94
15 Amazing Lessons I Learned from Bad Bosses
05/16/2014
0
93
10 Reasons Every Leader Needs a Blog
05/07/2014
0
92
The Single Biggest Reason Leaders Struggle with Delegation
04/30/2014
0
91
If You Want to be Successful, Stop Being So Accessible
04/23/2014
0
90
How to Discern Your Calling
04/16/2014
0
89
4 Difficult Sentences for Leaders (And Why You Must Get Good at Saying Them)
03/26/2014
0
88
What CEOs and Other Leaders Must Do to Create a Values-Driven Organization
03/19/2014
0
87
How to Monetize Your Platform
03/12/2014
0
86
What to Do When You Feel Overwhelmed
03/05/2014
0
85
What to Do If You Work for a Bad Boss
02/26/2014
0
84
Why Effective Leaders Cannot Afford to Be Easily Offended
02/19/2014
0
83
5 Strategies for Becoming a Better Conversationalist
02/05/2014
0
82
How to Keep Your Team Aligned During Times of Intense Change
01/29/2014
0
81
How to Create More Margin in Your Crazy-Busy Life
01/22/2014
0
80
5 Reasons to Speak Well of Your Spouse in Public
01/15/2014
0
79
5 Ways to Build Rapport and Trust with Your Audience
01/08/2014
0
78
Replay of Live Q&A Call About Goal-Setting
01/01/2014
0
77
How to Find a Mentor to Take You Further, Faster
12/18/2013
0
76
An Interview with Gary Vaynerchuk
12/11/2013
0
75
My Top 10 Productivity Hacks
12/04/2013
0
74
How to Frustrate Those You Lead (Are You Making These 13 Mistakes?)
11/27/2013
0
73
Advice to New CEOs (or Those Who Want to Be)
11/20/2013
0
72
5 Strategies for Building New Habits
11/13/2013
0
71
Help! I Married An Entrepreneur, Part 3
11/06/2013
0
70
Help! I Married An Entrepreneur, Part 2
10/30/2013
0
69
Help! I Married An Entrepreneur, Part 1
10/23/2013
0
68
Sleep and Your Productivity
10/16/2013
0
67
How to Have Better Dinner Conversations
10/09/2013
0
66
The Difference Between the Wise and the Foolish (and Why It Matters to You)
10/02/2013
0
65
Why You—Yes, YOU!—Should Consider Writing a Book
09/04/2013
0
64
Two Kinds of Thinkers: Which One Are You?
08/28/2013
0
63
Watch Your Mouth: How Our Words Impact Others
08/21/2013
0
62
Dealing with High Maintenance Clients
08/14/2013
0
61
How To Coach Your Boss
08/07/2013
Encore
A Peek Inside My Toolbox
07/31/2013
Encore
Change Your Story, Change Your Life
07/24/2013
Encore
The 7 Benefits of Keeping a Journal
07/17/2013
Encore
How to Overcome the Resistance
07/10/2013
Encore
How to Develop More Discipline
07/03/2013
0
60
How Do Busy Leaders Find Time for Social Media
06/26/2013
0
59
What I Learned About Leadership from a Fight with My Wife
06/19/2013
0
58
How to Create More Mental Focus
06/12/2013
0
57
Why You Must Confront Seemingly Indispensable but Disrespectful Team Members
06/05/2013
0
56
Who Are Your Trusted Advisors?
05/29/2013
0
55
How to Read a Non-Fiction Book
05/22/2013
0
54
So You're Overcommitted. Now What?
05/15/2013
0
53
How to Become a Morning Person
05/08/2013
0
52
The Power in Choosing Your Response
05/01/2013
0
51
How to Build (or Rebuild) Trust
04/24/2013
0
50
8 Leadership Lessons from a Symphony Conductor
04/17/2013
0
49
The 3 Components of Job Satisfaction
04/10/2013
0
48
The 5 Characteristics of Weak Leaders
04/03/2013
0
47
The Lost Art of Note-Taking
03/27/2013
0
46
How To Get More Twitter Followers–Legitimately
03/20/2013
0
45
A Peek Inside My Toolbox
03/13/2013
0
44
How to Overcome the Resistance
03/06/2013
0
43
How to Delegate Even If You Don't Have a Staff
02/27/2013
0
42
The Fine Art of Delegation
02/20/2013
0
41
7 Actions to Take Before You Quit Your Job
02/13/2013
0
40
Get Out of That Funk
02/06/2013
0
39
The 7 Benefits of Keeping a Journal
01/30/2013
0
38
Change Your Story, Change Your Life
01/23/2013
0
37
8 Leadership Lessons from Martin Luther King, Jr.
01/16/2013
0
36
How to Develop More Discipline
01/09/2013
0
35
The Importance of the Leader's Heart
12/05/2012
0
34
Make Your E-mail Messages More Effective and Professional
11/28/2012
0
33
My Answers to Listener Questions
11/21/2012
0
32
How to Create a Life Plan
11/14/2012
0
31
My Advice to Beginning Bloggers
11/07/2012
0
30
9 Rules for Leading More Productive Meetings
10/31/2012
0
29
7 Rules for More Effective Slide Presentations
10/24/2012
0
28
Become More Productive by Reengineering Your Morning Ritual
10/10/2012
0
27
How to Say No Without Feeling Guilty
10/03/2012
0
26
How to Lead in Turbulent Times
09/26/2012
0
25
4 Commitments for Building a Successful, Long-Term Marriage
09/06/2012
0
24
How to Become a Happy Person Others Want to Be Around
08/30/2012
0
23
Operating in Your Strengths Zone
08/22/2012
0
22
My Best Advice for First-Time Authors, Part 2
08/15/2012
0
21
My Best Advice for First-Time Authors, Part 1
08/08/2012
0
20
3 Strategies for Taking Your Life to the Next Level
08/01/2012
0
19
What the Internet Is Doing to Our Brains (And What We Can Do About It)
07/25/2012
0
18
7 Steps to Getting the Most from Your Vacation
06/27/2012
0
17
7 Keys to Writing a Killer Blog Post
06/20/2012
0
16
The How of Wow
06/13/2012
0
15
How Leaders Can Create Alignment
06/06/2012
0
14
Building Your Platform, Part 2
05/30/2012
0
13
Building Your Platform, Part 1
05/23/2012
0
12
The 5 Marks of Authentic Leadership
05/16/2012
0
11
The Secret Power of Naps
05/09/2012
0
10
How to Shave 10 Hours Off Your Work Week
05/02/2012
0
9
Is Work-Life Balance Really Possible?
04/25/2012
0
8
How to Benefit from Setbacks and Failures
04/18/2012
0
7
The Importance of Asking the Right Question
04/11/2012
0
6
The Power of Incremental Change
04/04/2012
0
5
How to Take Control of Your E-mail Inbox
03/27/2012
0
4
Seven Steps to Thinking Bigger
03/20/2012
0
3
The Relationship Between Vision and Productivity
02/28/2012
0
2
10 Practical Ways to Boost Your Energy Level
02/21/2012
0
1
10 Ways to Generate More Blog Traffic
02/14/2012