It's been more than a year since I updated our list of the Top Ten Publishers in America. Because of some changes in the available point-of-sale data, we were not able to get create a reliable ranking. However, we have seen an improvement in recent months. It's not perfect, but we do believe it represents the best data currently available.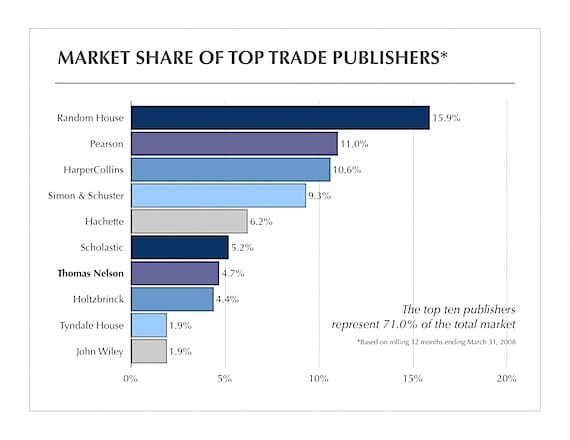 These lists are based on revenues for the twelve months ending March 31, 2008. We created these lists from a proprietary database we have assembled at Thomas Nelson. It is based on various point-of-sale systems from multiple sales channels.
We maintain two lists internally. First, we track the Top Ten Trade Publishers. (Publishers whose books are primarily sold through retail booksellers as opposed to, say, textbook publishers.) The various imprints are consolidated into their parent companies. So, for example, HarperCollins includes William Morrow and Zondervan. Simon & Schuster includes Free Press, Pocket Books, Howard Books, Scribner, etc.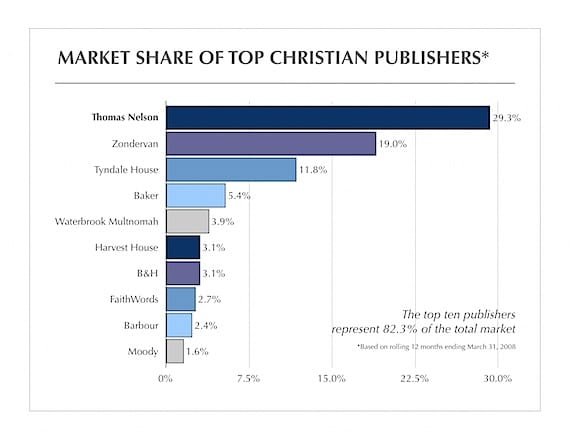 Second, we track all Christian publishers. In this case, we break out the Christian imprints of the trade publishers and rank them against each other. That's why Zondervan, for example, is on the second list but not the first list. (Click on the images above to enlarge them.
What's changed since the last time we published the list? A couple of things. First, on the Top Trade Publishers our ranking has dropped from #6 to #7. This is due to sales of Harry Potter and the Deathly Hallows from Scholastic. This one title propelled Scholastic from #10 to #6 and bumped us down to in the process. If you remove this one title from the database, we are still #6.
Pearson also overtook HarperCollins for the #2 slot. The other percentages within the list shifted slightly.
You may be wondering how John Wiley and Scholastic (without Harry Potter) could be smaller than Thomas Nelson. Keep in mind that our ranking only considers trade sales. Both Wiley and Scholastic have giant academic, professional and technical publishing programs that aren't considered trade sales. In addition, Scholastic has a book fair program, whose sales are not included here.
In terms of the Top Christian Publishers, the ranking of the top five publishing houses remained the same, though the market share percentages changed. We gained market share (180 basis points), along with Tyndale and Baker. Zondervan and Waterbrook Multnomah lost market share.
The bottom five on the list swamped positions and NavPress fell off the list entirely. They were replaced by Moody at #10.