Every month, I review a set of market share reports prepared by one of our internal analysts. While the data behind these reports are not perfect, I do believe they represent the best view of the book publishing market currently available. As a result, even though it's been almost two years since I posted a high-level summary of the data, I thought it would provide you with some insight into our industry.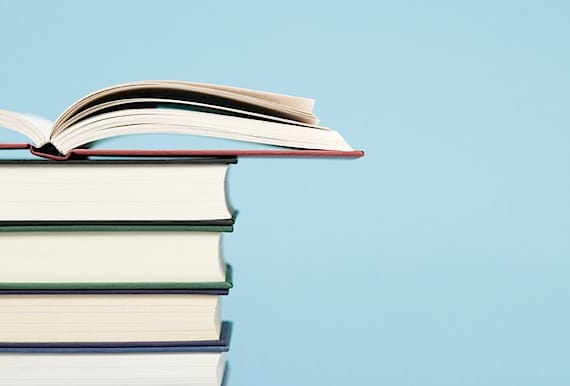 Photo courtesy of ©iStockphoto.com/Deejpilot
Keep in mind that these lists are based on revenues for the twelve months ending December 31, 2009. We created these lists from a proprietary database we have developed at Thomas Nelson. It is derived from various point-of-sale systems from multiple sales channels.
We prepare two "top ten" lists internally. First, we track the Top U.S. Trade Publishers. (Publishers whose books are primarily sold through retail booksellers as opposed to, say, textbook publishers.) We consolidate the various imprints into their parent companies. So, for example, HarperCollins includes William Morrow and Zondervan. Simon & Schuster includes Free Press, Pocket Books, Howard Books, Scribner, etc.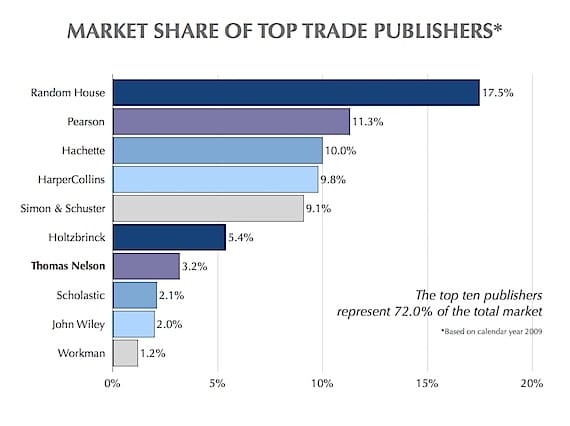 Second, we track the Top U.S. Christian Publishers. In this case, we break out the Christian imprints of the trade publishers and rank them against each other. That's why Zondervan, for example, is on the second list but not the first list. (Click on the images above to enlarge them. If you want both charts in a PDF, you can click here to download it.)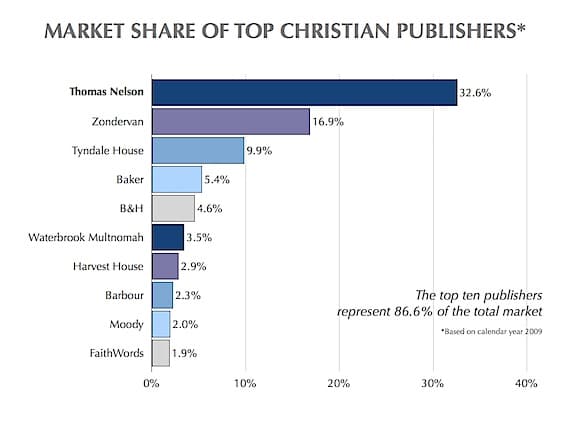 Nothing has changed in our overall ranking. We are still the #1 Christian book publisher in terms of revenue and the #7 trade book publisher in the U.S. What's changed since I last published the list?
Though Random house has retained its #1 position, it has also grown it's market share by 160 basis points (from 15.9% to 17.5%). Kudos to them.
Pearson, which includes Penguin among other imprints, has remained at #2. Their market share remained relatively flat, gaining 30 basis points (from 11.0% to 11.3%).
Hachette has moved up from #5 to #3, no doubt as a result of the success of the Twilight series. As a result, HarperCollins and Simon & Schuster each moved down one spot.
Thomas Nelson maintained its position at #7, but our market share dropped by 150 basis points. Frankly, the entire Christian category didn't perform well as evidenced by the fact that we actually gained share in the Christian segment. Tyndale fell off the list completely.
Scholastic fell from #6 to #8, as a result of the sales decline in the Harry Potter series.
You may be wondering how John Wiley and Scholastic could be smaller than Thomas Nelson. Keep in mind that our ranking only considers trade sales. Both Wiley and Scholastic have large academic, professional and technical publishing programs that aren't considered trade sales. In addition, Scholastic has a book fair program, whose sales are not included here. We are not in any of those businesses, so we haven't built any systems to track them.
In terms of the Top Christian Publishers, here's what has changed:
While Thomas Nelson retained it's #1 position, we grew our market share by 330 basis points (from 29.3% to 32.6%). I am very grateful for this. I am also very proud of my team.
While the top four publishers remained the same, Zondervan and Tyndale both lost market share. Baker remained exactly flat.
B&H (formerly Broadman & Holman and part of Lifeway) jumped two spots from #7 to #5. No doubt The Love Dare accounted for much of this.
FaithWords dropped from #7 to #10. Joel Osteen's first book, Your Best Life Now was a huge seller in the earlier period. It also appears that the sales velocity on Joyce Meyer's books have slowed in the last 21 months.
All in all, the last two years have been tough. I think the Christian segment in particular has suffered for lack of a blockbuster title to drive people to our category. When you have mega-bestsellers like The Prayer of Jabez, The Left Behind Series, The Purpose Driven Life, and Your Best Life Now, all publishers benefit because it gets people in the stores. We haven't really seen anything comparable for 18 months.
But publishing is kind of like the weather. Christian publishing especially has gone through a dry spell. But this will eventually change. While I never want to presume on the future, if history is any guide, we are overdue for some rain.
Question: What are your observations about these reports?