A while back, I gave my impressions of the Kindle 2 after one week of use. In that post, I attempted to focus on what I liked about Amazon's latest eBook reader. I also said that "I still don't think this is the device that will dramatically change the game for publishing."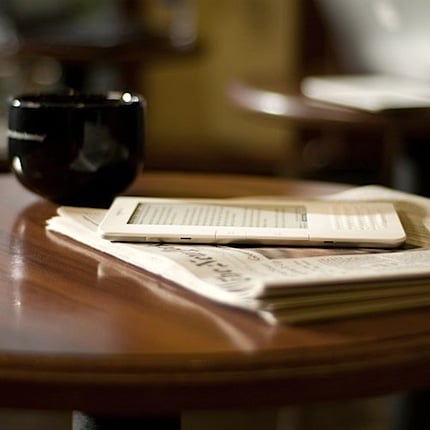 For the most part, Amazon addressed the problems with the original Kindle. However, they still have a ways to go if they are going to capture the interest of the majority of readers. Here's my list of what is still missing:
A color screen. I am confident that this is already in development; it will be essential for many kinds of books, including gift and children's books. It will also be important for most magazines and even newspapers. Regardless, the iPhone, iPod Touch, and even our computers have shaped our expectation that a color screen is a non-negotiable.
A larger screen. The screen on the Kindle 2 is fine for reading most text-based books. However, there are times when I wished it were larger. This will be particularly important for newspapers and magazines. In fact, as I was writing this, Amazon announced that they will hold a press release on Wednesday, May 6. The New York reports that they will announce a new Kindle with a larger screen.
A touch screen. Almost every time I hand my Kindle to someone to try for the first time, they try to touch the screen to turn the page. I think this is a testimony to how fast people have adopted the iPhone and iPod Touch interface. It is certainly more intuitive than having to click buttons.
Faster processing speed. There is a noticeable delay every time you turn a page or move to another screen. The screen flickers (redraws) and then changes. It's not so bad once you get used to it, but I have selected the same command more than once, thinking that it didn't register the first time.
A folder system. After you collect several books, newspapers, and other documents, the lack of an organization system becomes painful. Yes, you can sort by type of document, but I would like to be able to create my own folder system and store my books and other documents where I expect to find them.
A lower price point. Initially, I thought that at $359, Amazon was only covering its costs and intended to make money on selling content (eventually). But several sources have reported that the Kindle 2 only costs about $185 to manufacture. This provides a nice margin for Amazon. If they are going to see this device catch on with the masses, they will need to lower the price. A price point of, say, $199 would make it comparable to the iPhone, which has sold more than 10 million units.
An open API. Personally, I think that Amazon should get out of the hardware business altogether. They should let other companies like Apple and Sony invest the money to create truly great hardware. By allowing these same companies to include the Amazon Kindle store on their devices, Amazon would insure that no one else could really afford to develop their own software delivery system. As a result, they would be selling content on everyone's eBook reader, rather than just their own.
Even with the above limitations, I still think the Kindle 2 is an amazing device. I am currently traveling now and am appreciating more than ever the convenience of not having to lug around a stack of books.
Question: If you own a
Kindle 2
, what is on your wish list? If you don't, what would be required before you would buy one?