Last Friday, I watched the Tiger Woods press conference in amazement. I was stunned at his candor. He didn't sugar-coat his sin. Instead, he repeatedly acknowledged the magnitude of his wrongdoing and the scope of its impact.
If you can't see this video in your RSS reader or email, then
click here
.
It is worth reading or watching the statement in its entirety. It contains several important lessons. However, these three paragraphs summed up his thoughts:
The issue involved here was my repeated irresponsible behavior. I was unfaithful. I had affairs. I cheated. What I did is not acceptable. And I am the only person to blame. I stopped living by the core values that I was taught to believe in.

"I knew my actions were wrong. But I convinced myself that normal rules didn't apply. I never thought about who I was hurting. Instead, I thought only about myself. I ran straight through the boundaries that a married couple should live by. I thought I could get away with whatever I wanted to. I felt that I had worked hard my entire life and deserved to enjoy all the temptations around me. I felt I was entitled. Thanks to money and fame, I didn't have to go far to find them.

"I was wrong. I was foolish. I don't get to play by different rules. The same boundaries that apply to everyone apply to me. I brought this shame on myself. I hurt my wife, my kids, my mother, my wife's family, my friends, my foundation, and kids all around the world who admired me."
I'll be honest: I was moved by Tiger's confession. It is rare for celebrities to accept responsibility for their sins, understand the full scope of the damage they have caused, and express such remorse for their actions. At the end of the press conference, I tweeted: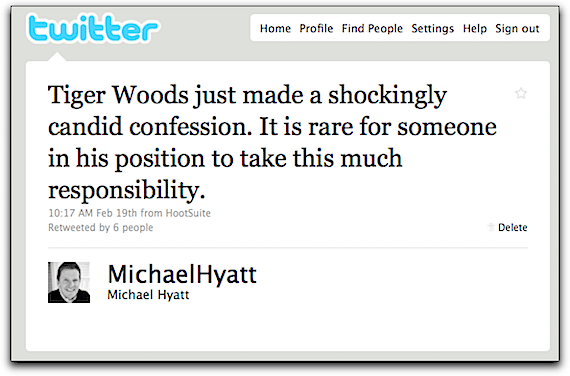 Almost immediately, I received several direct messages from people who thought I was naive. One person wrote, "It was totally scripted. I don't believe a word of it." Another said, "It was a PR stunt. He's just trying to salvage his sponsorships. He will be right back at it once he's away from public scrutiny." Still another wrote, "If I were his wife, I would have dumped him long ago. I could never forgive someone who had cheated on me that many times."
Maybe they are right.
However, during this season of Lent, my church prays an ancient and beautiful prayer by St. Ephraim the Syrian (ca. 306–373). It says,
O Lord and Master of my life, take from me the spirit of sloth, faintheartedness, lust of power, and idle talk.

"But give rather the spirit of chastity, humility, patience and love to your servant.

"Yea, O Lord and King, grant me to see my own sin and not to judge my brother, for You are blessed from all ages to all ages. Amen."
I have been especially struck by the last sentence. Consequently, I am trying to avoid the sin of unforgiveness, especially during this season. Jesus stated plainly: "For if you forgive men their trespasses, your heavenly Father will also forgive you. But if you do not forgive men their trespasses, neither will your Father forgive your trespasses" (Matthew 6:14, 15).
Based on this, whenever someone confesses their sin as Tiger did, I have at least five responsibilities:
Resist the temptation to judge. It is not my place to judge Tiger or anyone else. I don't have to account for his sin. That's his responsibility to bear alone. I have plenty to account for myself, thank you very much. Instead, I should feel compassion. As the old saying goes, "But for the grace of God go I."
Accept the apology at face value. It is not my job to determine if Tiger is sincere. (How would I do that, anyway?) As Tiger himself said, "My real apology to her [i.e., Elin, his wife] will not come in the form of words. It will come from my behavior over time." Is he done repenting? No. He is just getting started. But he has begun well. And for that, I should be grateful and affirming.
Believe in the possibility of change. Cynicism is easy. It costs me nothing. Belief, on the other hand, requires risk. He may be lying. He may fall again. He might betray us all. But if people really cannot change, then what hope is there for any of us? One of my core beliefs is that "with God all things are possible" (Matthew 19:26). No one is beyond the reach of God's redemption.
Extend mercy and grace. Justice demands that we pronounce him guilty, dismiss him from further consideration, and move on. But Mercy requires that we refuse to condemn him. Even more astonishing, Grace insists that we extend to him what he does not deserve: hope, patience, and love. Though he doesn't deserve this, he needs all of it. Without mercy and grace we are all lost.
Pray for transformation. Tiger seems to understand—as all self-acknowledged sinners must—that he cannot overcome his sin alone. He needs help. His journey has just begun. The road ahead is long and difficult. He will need human assistance, to be sure. But more importantly, he will need God's help. This is where I can play a role by refusing to cave to cynicism and judgment. Instead, every time I am tempted to go there, I can pray that God would transform him into the man he could be.
Tiger's story is not that different than mine. Yes, it is perhaps more severe and more public. But in the end, sin is sin. It is only a matter of degree. "For all have sinned and fall short of the glory of God" (Romans 3:23). If there is hope for me—or for you—then there is hope for Tiger.
May God help him to find his way home and reconnect to the One who gave His life as a ransom for many (Matthew 20:28).
Question: How did you respond to Tiger's apology? What do you think it means for you?