This is a guest post by Justin Wise. He is is the social strategist for Monk Development, builders of
Ekklesia 360
. He is also one of the
Community Leaders
on this blog. Check out his
personal blog
and follow him on
Twitter
. If you want to guest post on this blog, check out the guidelines
here.
We live right next to an elementary school. If I'm going to an appointment, I'll sometimes see the kids out at recess. Jumping, skipping, laughing—genuinely free.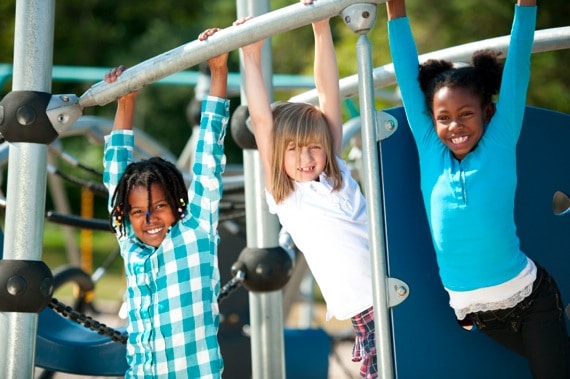 Photo courtesy of ©iStockphoto.com/CEFutcher
Inevitably, the bell rings and the teachers start the impossible task of herding excitable, pint-sized people into the confines of a classroom. I can almost hear them from inside my house, "But I don't wanna!" Such is life, I guess.
One afternoon after witnessing this scene, I started thinking how important recess is to those children. This brief break in the day provides them with the opportunity to blow off some steam, socialize with friends, and get some physical activity.
The consequences of having these basic needs unmet are dire. Ask any teacher and they'll tell you the worst days are the ones with inside recess. Simply put, kids need this time.
It's easy for us adults to see recess as something only for kids. But are we, in all our sophistication, that different? Could it be that long after we've left the crayons, hot lunches, and paper maiche projects behind we still have a deep need to recharge during our day?
Our modern workday has been heavily influenced by the Industrial Revolution. The name of the game was "efficiency" and the star of the show was the production line. Human beings became human doings.
Unfortunately, the work patterns of this era still follow many of us into our nine-to-five jobs. We've chained ourselves to the modern-day version of the production line (computer) and pushed ourselves past the point of productivity.
Is it any wonder that a Towers Watson study suggests that companies with a high percentage of disengaged workers (read: burned-out) reported an eleven percent decline in earnings and a thirty-two percent plummet in operating income?
I think grade school kids understand something that we grown-ups have forgotten.
Might I suggest an adult version of recess? A period of time during the day where you have the ability to clear your mind, chat with friends and co-workers, and get some physical activity?
If that sounds like something you'd want to try, here are some suggestions I've implemented into my own life:
Have lunch with a friend or spouse. An alarming number of people eat in the same place they work: at their desk. Adding insult to injury, this "cube food" is usually highly-processed, frozen, and devoid of all nutrients. Grab a friend and go out of the office for lunch. Even if you're an introvert, you'll be amazed at how much better you feel afterwards.
Read a fiction book. For fun. Having a young family, I can't always read as much as I'd like. My "recess" allows me the time to catch up on books I've been neglecting for too long. Fiction accesses a different part of the brain and gets us out of our mental ruts.
Go for a walk. Have you ever wondered why solutions to some problems only come when we stop thinking about them? It's because your brain is backlogged. Taking a breather gives it time to catch up. Taking a walk (or any physical activity) is a great way to give your brain a break!
Sit in silence. This might sound goofy for uninitiated, but your mind, body, and spirit crave the chance to quiet down during the day. Turn off your monitor, cell phone, close your office door (if you can). Any place you can shut out distraction. Then, just sit. Even if it's five minutes, you'll feel it. In going with our analogy, think of this as "nap time" for adults. Kids need it. So do grown-up kids, i.e. "adults."
Depending on where you work (or who you work for) your options may be limited. That doesn't mean you can't unplug. You'll just have to get creative.
If you start implementing some of these changes into your workflow, you will feel a difference. It's biologically impossible for you not to!
There is high-level research being done on the link between rest and productivity. Suffice to say that taking breaks during the day allows us to gather the mental debris floating around in our heads and get rid of it. It's not wishful thinking; it's science.
So the next time you see a group of elementary kids playing in the schoolyard, ask yourself the question, "Did I get my recess today?"
Questions: Do you take breaks during the day? If so, what do you do during that time? If not, why not? You can leave a comment by
clicking here
.