Peace is a rare virtue in our modern world. Anxiety is commonplace. With civil unrest in the Middle East, protests in various U.S. state capitals, economic turmoil, and severe weather, there is plenty to worry about.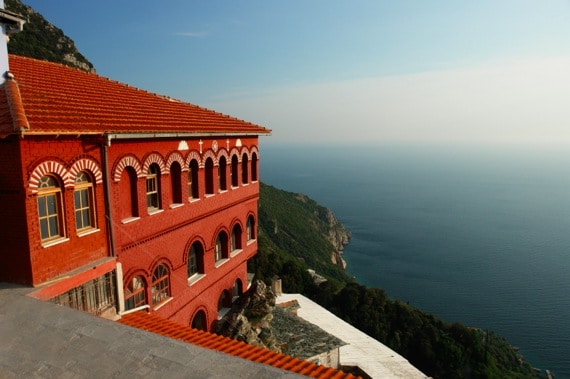 Photo courtesy of ©iStockphoto.com/papadimitriou
Today, I was thinking about how important is is for those leading in these turbulent times to be at peace and convey peace. It is the one thing people need now more than ever: calm, confident leadership. But where do you get that? It's not something you can fake.
As I was thinking about this, I remembered a trip I took in the spring of 1994. I went on a spiritual pilgrimage to Mt. Athos, an independent monastic republic just southeast of Thessaloniki, Greece. I went with four friends for three weeks. It was an amazing experience—truly one of the top five of my life.
In case you don't know, Mt. Athos is a major spiritual center for Orthodox Christianity. It is home to some twenty monasteries on a peninsula that, though connected by land, is only accessible by boat. The earliest monasteries on the "Holy Mountain" (as it is often called) date back to the 8th century.
During our time on Mt. Athos, we visited the ancient monasteries of Xenophontos, Iviron, Philotheou, Simonopetra, Gregoriou, and Agiou Pavlou. I have numerous fond memories of my visit there, but I keep returning to one near the end of our trip.
The last monastery we visited was Agiou Pavlou, or St. Paul's, on the southern end of the peninsula, at the base of Mt. Athos itself. Though it sits back only a mile or so from the Aegean Sea, the snow-capped peaks of the mountains rise 6,700 feet behind it.
On the second day of our visit, we decided to hike down to the Skete of St. Anne, a smaller monastic community right on the water. We spent the day with two monks, one who made church candles to support himself and another, Father Nikon, who was a world-reknown iconographer.
Father Nikon, who spoke very broken English, told us that his name was pronounced just like the famous camera company, "My name is Father Nikon," he chuckled, "just like the camera company: 'the first name in photography'."
He then asked us to sit and, as is the custom everywhere on Mt. Athos, he offered us some tea and pastries. We then had a wonderful, rambling conversation about the spiritual life. He exuded wisdom and grace. His personified love, joy, and peace.
Near the end of our visit, I walked out with him on the veranda of his house. It directly overlooked the Aegean Sea, which that afternoon was smooth as glass. It was absolutely gorgeous. After several minutes of drinking in the view and knowing my trip was coming to an end, I said, "I hate to leave, Father. It is so peaceful here."
Fr. Nikon nodded, but did not respond. Finally, after a few minutes, he said, "You know, Michael, anywhere can be this peaceful, if"—and he paused for emphasis—"you have God in your heart. But if you don't, then even a place as beautiful as this can be hell."
It was a sober reminder that the experience of peace does not depend on our circumstances. It is possible to experience it, even in the midst of a noisy and dangerous world. The experience of peace is not waiting for us in an idyllic setting half a world away. For Christians, peace is not a place but a Person.
As leaders it is critical, that we possess peace. In turbulent times, those we lead look to us to assess how they should respond to the vicissitudes of life. A calm and peaceful spirit communicates that we believe everything will be okay. God is in charge and will see us through.
Question: What has been your experience with leaders manifesting peace in the midst of extraordinary pressure? You can leave a comment by
clicking here
.