Since Google introduced its Book Search program, we have been fielding questions from authors and agents. They are concerned that Google has scanned their books and the results are showing up in Google search. The primary concern is that consumers will not buy books because. Why? Two reasons: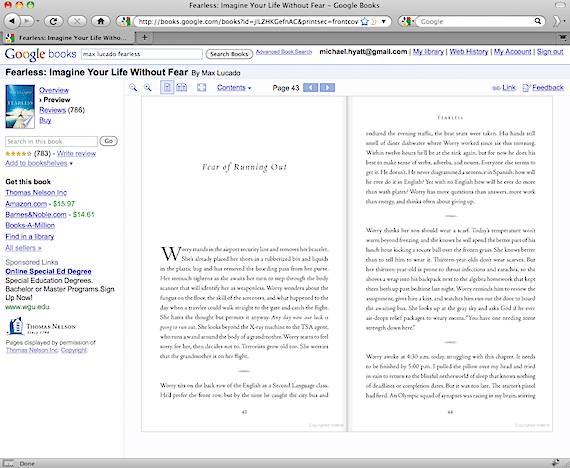 Because consumers can read them online
Because consumers can copy and paste the content to their computer and then print out the book
In my opinion, both fears are unfounded.
Two weeks ago, we had a representative of Google visit our Nashville campus and present a Google Technology Seminar for about 100 of our publishing and sales staff. I attended as well. The seminar was extremely helpful. It provided an overview of both Google's philosophy, technology, and future plans.
I came to the meeting skeptical but left convinced that Google has already addressed most of my major concerns. Based on the information Google provided to us—and with thanks to Tod Shuttleworth for his excellent meeting summary—I believe authors, agents, and publishers should embrace Google Book Search rather than fear it:
Google Book Search creates greater book awareness. Google, the most popular search engine by far, helps put books in front of people who might not have thought a book could be an answer to their query. They are, after all, using Google to find something. As authors, agents, and publishers, we believe books are a great place to find an answer. However, if they don't show up in the Google search results, consumers are will seek their answers elsewhere.
The biggest problem authors face today is obscurity not piracy. With more than 500,000 new books published annually, it is difficult for authors to get noticed. The competition has never been more fierce. In addition, consumers spend four to five times more time on the Internet than they spend reading newspapers or magazines where publishers have traditionally promoted their books. Google Book Search puts these books where people are more likely to find them. They do this with every book, frontlist and backlist, using the book's most compelling feature: its very own content.
Most people have no desire to read a book on their computer. It's just too much work. In addition, Google intentionally renders pages at a lower resolution to make them a less-than-optimal reading experience. The resolution is good enough for sampling the content, but it is not good enough for reading more than a few pages. Unlike dedicated e-reader devices, Google Book Search is not optimized for book-length reading. Google's goal is discovery and sampling not content-delivery.
Google only allows users to preview 20 percent of a book's content. Consumers can do this—and more—in a traditional bookstore today. Why shouldn't they be able to do it online? In addition, Google does not allow copying, pasting or printing. Publishers can increase amount of content they make available (up to 100 percent), but they cannot turn on copying, pasting or printing in the basic preview program. However, Google will make this option available via their Google Editions program, but this is only for paid content, once a consumer has actually bought the book.
I am impressed by how responsive Google has been to the concerns of the publishing community. I believe they are going to make it possible for more consumers to discover great new content that they would have otherwise missed. Rather than being something we should fear, Google Book Search is something we should embrace. If we do, I think we will find that our content is suddenly more relevant than ever.
Update: Here are some resources from Google for publishers and authors.
Question: How do you feel about Google Book Search? What concerns do you have that I have not addressed?