I have used a paper journal for years to take meeting notes and jot down random thoughts. (I detailed my system here.) Yes, I tried the first generation iPad for this, but I ended up passing it on to a colleague. I just couldn't quite fit it into my workflow—especially after I got a MacBook Air.
For years, my journal of choice has been the Moleskine. In fact, I have an entire shelf in my office set aside for storing my old copies. I have loved the simplicity, usability, and low profile of this notebook.
However, as I became more and more addicted to Evernote, I tried to figure out a way to get these notes into Evernote. Yes, you can take a photo, using the Evernote app for iPhone. But this is not as simple as it sounds. It is difficult to get the pages in focus and in the right orientation (landscape vs. portrait). If it works for you, great. It didn't work for me.
What I really wanted to do was tear the pages out, scan them in my ScanSnap scanner, and then throw them away. The problem is that the Moleskine notebook only has 16 perforated pages at the end of the journal. That sent me on a search. What I really wanted was a journal where every page was perforated.
Google didn't let me down. I almost instantly found the Ecosystem line of personal journals. I also discovered that they were available at my local Barnes & Noble store. Gail and I made a quick trip to the store near our home, found the Ecosystem spinner rack, and began exploring our options.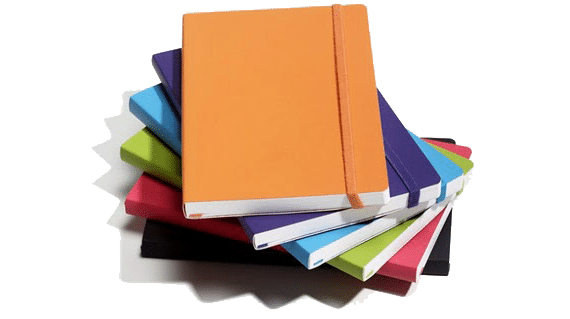 We discovered that the Ecosystem journals look almost identical to the Moleskine ones. It has a ribbon bookmark, elastic closure, and expandable inner pocket. However,
Every page is perforated
The paper is 100% post-consumer recycled and acid-free
Each journal has a unique ID number. If you register it, and it is found, whoever found it can return it to you.
It is made entirely in the U.S.A.
It comes in four styles:

Advisor (calendar formats)
Architect (grid paper)
Author (ruled paper)
Artist (blank paper)

It comes in six vibrant colors (see photo above)
It comes in three bindings:

Hardcover
Flexicover
Paper

It also comes in three sizes:

Large (7-3/8″ x 9-7/8″ inches)
Medium (5-1/4″ x 8-1/4″ inches)
Small (3-5/8″ x 5-5/8″ inches)
Currently, I am using the medium, hardcover Author style in Oynx black. If you didn't know better, you would think it was a standard issue Moleskine notebook. The retail price is $16.95, a dollar cheaper than the Moleskine. However, via Amazon, they are about the same price ($11.53 vs. the Moleskine at $11.67).
If you are a Moleskine user, I would encourage you to try the Ecosystem's Journal—especially if you are using Evernote. It is worth the added features.
Also, you can follow Ecosystem on their Tumblr blog, Facebook, or Twitter.
Thanks to the generosity of Ecosystems, I gave away 50 free copies of the Author style journal. You can find the list of winners
here
.
Question: What is your current system for taking notes? You can leave a comment by
clicking here
.