I recognize that all that I have—including my platform—is a gift. I am a steward not an owner. As a result, I enjoy using what I have for the benefit of others. I want to be helpful and generous.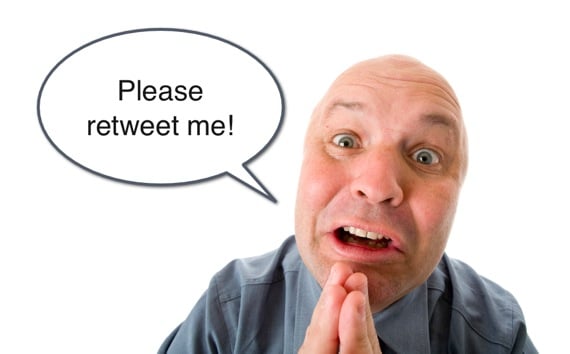 Photo courtesy of ©iStockphoto.com/tap10
But, no, I won't retweet you.
This is a difficult decision. I struggle with it more than I should. But I get several requests a day from people who want me to retweet one of their posts.
Here are the six most common reasons I won't retweet you.
Because you asked. If you write interesting Twitter posts or link to interesting resources, I will naturally want to share them with my Twitter followers. If you have to ask, it should be a clue. It's like saying, "I know this isn't that interesting, but I still need your help in getting the word out."
Because I don't know you. Yes, we follow one another on Twitter, but we have never met. Or perhaps we have met once or twice, but that hardly qualifies us as "friends." It certainly doesn't entitle you to an open mic with my audience. Here's a good test: If we just met at a dinner party, would you ask me to do this?
Because your content isn't a fit for my audience. My followers are interested in hearing from me on a narrow range of topics: leadership, productivity, social media, and publishing. That's about it. If I retweet something else, it is unanticipated and just more noise in their inbox.
Because I am not going to spam my followers. I can only ask my followers to do so much. If I start doing this too much, my Twitter stream turns into spam. Also, I am definitely not going to ask my followers to support you if I don't know you or I don't know your cause; I don't care how worthy it is. It would be irresponsible of me to recommend something I haven't checked out.
Because your content is boring. People only retweet stuff they find helpful or interesting. Before you post something on Twitter, it's worth asking yourself, Will my followers find this interesting? I know there are exceptions, but if you want to get retweeted, this is essential.
Because your tweet is too long. Make it easy for me. I don't have time to edit your tweet down to 140 characters. Insure that your tweet is short enough to allow for the "RT" designation plus your Twitter name. For example, I know my tweets can be no longer than 123 characters: 140 minus the 17 characters than make up "RT @michaelhyatt" (including a space at the end of my name).
Question: What kinds of Twitter posts do you refuse to retweet? You can leave a comment by
clicking here
.