Last year I attended the Chick-fil-A Leadercast in Atlanta, Georgia. I also had the privilege of hosting the "Backstage Video" program. I interviewed each of the speakers, including Jim Collins, author of Good to Great; Dr. Ben Carson, the Director of Pediatric Neurosurgery at Johns Hopkins Hospital; and Dan Cathy, the President and Chief Operating Officer of Chick-fil-A.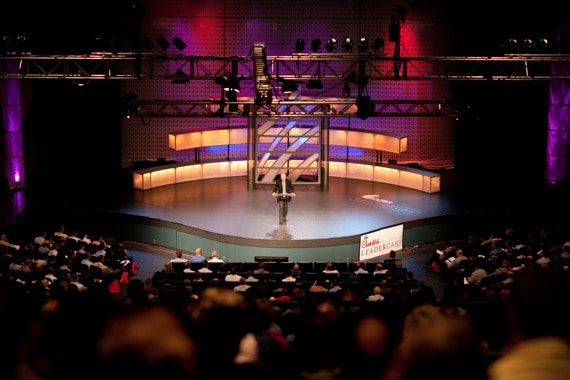 I attended numerous events last year, but this one was in my top three. Why? Because it provided the inspiration and practical how-to information leaders need to take their leadership to the next level.
Giant Impact will again be hosting this Chick-fil-A Leadercast event on May 6, 2011 in Atlanta, Georgia. Once again I will be hosting the "Backstage Video" program. The lineup of speakers this year is second-to-none. They include:
This one-day event will be broadcast live from Atlanta Georgia to more than 75,000 attendees. You can attend the live event or host the event within your own community via internet or satellite feed.
If you are in a church leadership position, this is a great way to build relationships with the local business community, generate alternative revenue, and be relevant to business leaders in your city.
The theme for this year's program is "Voices of Change." The Chick-fil-A Leadercast team believes that every leader has a voice. This event will help leaders identify and use their leadership voice to creative positive change around them. This includes developing five kinds of voices:
Voices of Service—these are behind-the-scenes leaders, impacting others through their generous gifts of time and talent.
Voices of Innovation—these are innovation pioneers, helping others realize dreams through their fresh perspectives and contagious enthusiasm for the future.
Voices of Hope—these are encouragers, inspiring others to plan for and expect that a better outcome is always within reach.
Voices of Purpose—these are visionaries, steadily and confidently directing others toward the envisioned destination.
Voices of Influence—these are mentors, humbled by the responsibility that comes with empowering, developing and guiding fellow leaders.
What is the next step? If you'd like to be involved, visit the Chick-fil-A Leadercast Website or call (877) 225-3311 to request more information about the event.
You can also follow Chick-fil-A Leadercast on Facebook, Twitter and Linkedin to be kept up-to-date on the latest leadership resources and news about the event.
This is an opportunity for you to take your leadership to the next level. Don't miss it!
Question: What value do you get from these kinds of conferences? You can leave a comment by
clicking here
.