We are publishing a new book by Donald Miller this September. It is called A Million Miles in a Thousand Years. In case you are not familiar with Donald Miller, he is the New York Times bestselling author of Blue Like Jazz. His free-flowing narrative style and authenticity have made him one of our most popular authors.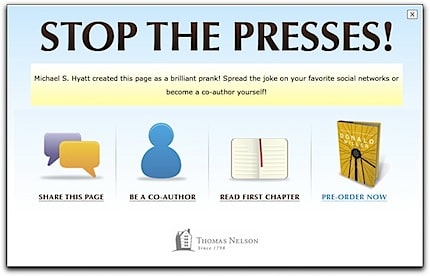 Recently, Don and his team came up with a brilliant viral marketing strategy, designed to boost pre-sales of the book. The idea centers around a prank in which you pretend to be Don's co-author.
To participate, you go to a web page and enter in your name, email address, and a brief description of what it was like to work with Don on his book. It takes less than two minutes. For example, I said (tongue-in-cheek):
As a publisher, I personally write many of our biggest authors' books. But this is especially true for Don Miller. After Blue Like Jazz, I realized this was the only way we would ever get anything else out of him. It's about time I got credit!"
When you click on the "Make Me a Co-Author" button, the program creates your own special news page, complete with a picture of Don's new book with your name as the co-author. It also has your quote about what it was like to work with Don. Here's my page and my daughter, Marissa's.
This is where the fun starts. From the news page, you can send a link to your friends via email, Facebook, or Twitter. I personally Twittered the link and received a variety of responses. Here are a few:
"Great. I can't wait to read it."
"I'm sure you added a great deal of value."
"You really had me going there for a minute."
"You're being a little arrogant, don't you think?"
Thankfully, most people got the joke. Regardless, it is a great way to promote Don's new book—and have a little fun with your friends. It is just one of the way's that we are aggressively experimenting with social media marketing here at Thomas Nelson.
By the way, the special news page also gives you the opportunity to read the first chapter of Don's book and pre-order it.
To become Don's co-author yourself, click here.
Question: Did you create your own page? What was the response from your friends?