How can you secure a book contract from a publisher?
It's not about having a great book idea.
It's not about writing a literary masterpiece.
It's not even about knowing the right people.
The real secret to securing a book contract is knowing how to write a powerful, compelling book proposal that leaves agents begging to represent you—and publishers eager to sign you.
Dear Fellow-Author,
My name is Michael Hyatt. I am the former Chairman and CEO of Thomas Nelson Publishers. I also served as a literary agent for six years, representing numerous bestselling authors. I am also a New York Times bestselling author myself with seven books to my credit, including my most recent, Platform: Get Noticed in a Noisy World.
I know what it takes to get a book contract. I know what it's like to have a book published by a traditional publisher. I know what other doors open when that happens, including the opportunity to impact tens of thousands of people—and be rewarded handsomely for it.
It's really not that difficult—if you know the secrets I reveal in my two ebooks. I show you what it takes to secure a book publishing contract, whether you are writing a non-fiction book or a novel.
Secrets for Non-Fiction Authors
In Writing a Winning NON-FICTION Book Proposal, I reveal how to:
Write a killer query letter that gets the agent or editor to actually read the proposal.
Get the publisher's attention in the first paragraph.
Answer the three questions every publisher asks next.
Create a unique selling proposition that explains what the reader will gain by reading the book and how the book will deliver it.
Distinguish between benefits and features—and why it is essential that you do so.
Identify your target market in such a way that the publisher can visualize the exact opportunity your proposal represents.
Understand the difference between demographics and psychographics and why both are important.
Identify specific affinity groups that will help you—and the ultimate publisher—maximize the sales potential of your book.
Assess your competition and explain how your book will be different.
Explain why you are qualified to write this book—even if you are a first-time author.
Demonstrate what you are prepared to do to help market your book.
In addition, I explain how to write a chapter-by-chapter synopsis of your book and the six elements that should be part of any sample chapter you include.
I read fifteen books on writing and publishing in order to prepare for writing my first book. The book proposal advice that Michael Hyatt gives is the best I've seen anywhere. More than this, the book proposal format that he lays out helps you structure your proposal in the clearest, most engaging, and most helpful way possible. In utilizing the principles and proposal structure outlined in Writing a
Winning Non-Fiction Book Proposal,
I received four offers on my book proposal within six weeks—including offers from our top two priority publishers. And—most importantly—it better prepared me for writing my book by helping me think it through from top to bottom."
– Matt Perman
Author
I wrote the first version of this ebook several years ago. It has become the de facto standard in the publishing industry (check the endorsements from literary agents in the sidebar on the right). It has enabled hundred of authors—just like you—to secure a book publishing contract.
Writing a book without a proposal is like building a house without a blueprint. Not only is it dangerous, but it's also a waste of time and money. Michael Hyatt's e-book will save you time and money and best of all, it will put your dream within reach. I use his structure and thought process when I prepare my proposals for my publishers. So far, it's worked six times and counting!"
– Kary Oberbrunner
Author
Secrets for Fiction Authors
After years of requests, I am also pleased to offer the fiction version. In Writing a Winning FICTION Book Proposal, I reveal how to:
Understand the four elements your fiction proposal must include.
Write a well-crafted query letter that leaves the agent or editor begging for more.
Compose a compelling "hook" that conveys the premise of your novel in nine sentences or less.
Identify your target genre in such a way that the publisher can visualize the precise market for your novel.
Explain why you are qualified to write this book—even if you are a first-time author.
Avoid the three items you should NEVER include in a fiction book proposal.
Convey the "story arc" of your novel in one page and avoid the mistakes typically made by amateurs.
Include just enough of your novel to prove that you can write but not so much as to make reading it too daunting.
Michael Hyatt's ebook provided me with a step by step process which helped me to both clarify my message as a first-time author as well as communicating that core message to potential agents and publishing companies. Numerous agents commented on the quality of my proposal and I am pleased to have recently entered into an author agent agreement with a well established literary agency. I highly recommend this product to any author seeking to better navigate the turbulent waters of the publishing business."
– Terry Timm
Author
You Take ZERO Risk
I am so confident you will be satisfied with my ebooks, I offer the following guarantee:
If you don't find these ebooks helpful and worth every penny you pay, just send me a quick email, and I will quickly and courteously refund your money. No questions asked.
What could be fairer than that?
Just last month a publisher accepted a book proposal that I prepared after reading Michael Hyatt's clear, concise, and wise advice. His book is a good investment."
– Andy Naselli
Author
So far, I have sold thousands of these ebooks. Yet I have only had a handful of refund requests. Nonetheless, the offer still stands. Why? Because I don't want you to miss this opportunity to secure a publishing contract and experience the life-changing impact of becoming a published author!
Why These eBooks Are Unique
Yes, there are other books and courses on how to write a book proposal. Mine aren't the only ones. But I do believe mine are unique for three reasons:
I am a published author. I know what it's like to get rejected—and accepted—by agents and publishers.
I am a former literary agent. I have sold hundreds of projects to traditional publishers. I know what it takes to get a publisher's attention and get five, six, and even seven-figure offers for my clients.
I am a former publisher. I know what it's like to receive thousands of proposals a month. I also know why a handful of these grabbed my attention and caused me to reach for my checkbook.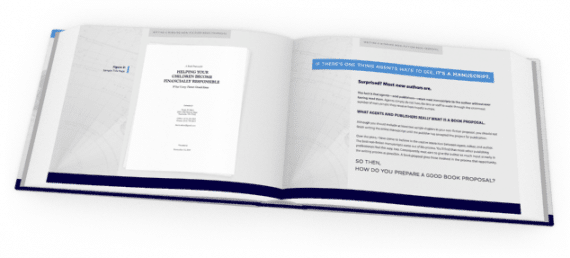 When it comes to getting a book contract, you need someone with experience to guide you—not ivory tower advice or theory. You need a slam-dunk, sure-fire way to get your proposal noticed.
I have been a 'virtual' student of Michael Hyatt's since first discovering his blog a little over a year ago. His posts on leadership, productivity, publishing and social media are part of my daily 'learn something new' routine. Although I am already a published non-fiction author, I ordered his ebook,
Writing a Non-Fiction Proposal
as soon as it was offered. I was not surprised to discover it to be one of the most well-written and easiest to follow writing tools I have ever used. I followed his step-by-step guide to create a proposal for my latest work and received a publishing offer out of it. What more can I say? I am using it again right now for my next book proposal and expecting the same result!
– Pat Layton
Author
What Is Your Time Worth?
Some friends suggested I should charge $30–50 for these ebooks—not based on the page count (after all, non-fiction ebook is only 32 pages long and the fiction eBook is only 28 pages long), but on the specialized information they contain and the RESULTS THEY HAVE PRODUCED for so many authors. "This is a minuscule investment," they argued, "compared to the results these ebooks produce."
However, I decided to offer these e-books for just $19.97 each. I may raise the price later, but for right now, I would rather make these ebooks available to as many people as possible at an affordable price. In addition, if you are considering both fiction and non-fiction, you can buy both ebooks for just $29.94—a $10.00 savings!
I attended a writer's conference with the verbal story of an encounter that redefined confession and freedom in my life. Quite a few publishing houses and agents asked me to email them my book proposal. Being completely green, I returned home with no idea where to begin and searched the web for a "format" to follow. I verbatim went off of Michael's book proposal format which not only caught the eye of a senior acquisition's editor at a major publishing house, but also secured me the agent I had hoped to work with! A priceless resource! Thanks Michael!"
– Elizabeth Fisher
Author
Make Your Dream Come True
So what are you waiting for? The dream of getting a book contract is within reach. Just click on the buy button below and let's get started! Remember: each book comes with my money-back guarantee.
Please note: these e-books are available only as a PDF download. I do not offer physical, printed copies. Nor do I offer these in Kindle or ePub format.
If you need customer support, please email [email protected]. We would be happy to assist you.